4 nights of fetish events + the world-famous VIP Fetish Cruise!

CLICK ON GOING - SAVE THE DATE - STAY IN THE LOOP - SHARE!
VFW2016 saw the festival truly explode to an international level with an unparalelled level of kink community crossroads intersecting at the many electrically charged events of the weekend. For our 5th Anniversary, we are adding even MORE events to the weekend, with many surprises in store. This will be an absolutely DO NOT MISS stop on the international kink party circuit for 2017 so mark the date and start making travel plans now!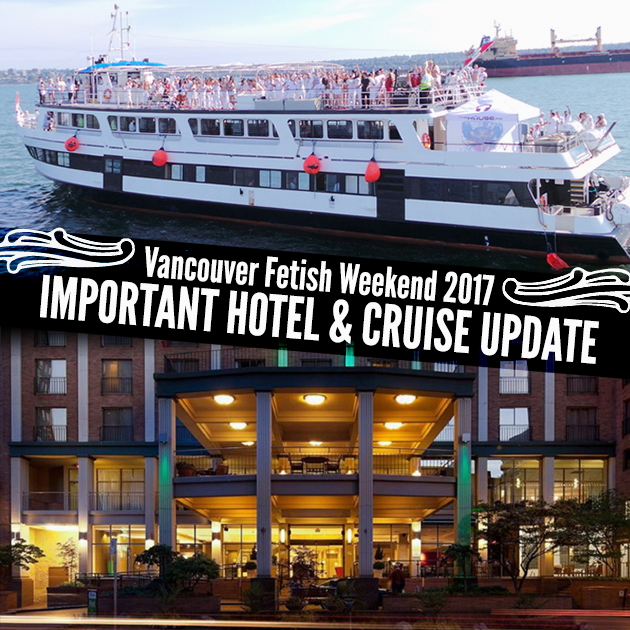 Excitement for this year's Vancouver Fetish Weekend is OFF THE CHARTS. There has been a HUGE spike in people coming this year! Read on for some very important updates regarding our host hotel and cruise, which are already selling out, and if you haven't grabbed your weekend passes yet, best to do so SOON!
VIP FETISH CRUISE :
It's been just 11 days since tickets became available for VFW2017, and if we still were on the yacht we used for the past three years' Fetish Weekends, we would now be announcing that the cruise is already 100% SOLD OUT! Lucky for everyone, we upped our game massively this year and booked a boat which is literally twice as big! Even though it is Vancouver's largest privately chartered pleasure yacht available, tickets are selling at lighting speed and are disappearing quickly, and any moment we will be making the announcement that we are down to less than 100 tickets left. Act fast and join 400+ kinksters on North America's largest all-fetish cruise – tickets will be gone shortly!
HOST HOTEL :
Bookings at the hotel have been HUGE this year – so much so, that we got a phone call from them this morning informing us that our entire group block of discounted tickets has SOLD OUT! Regular rates for hotel rooms in Vancouver during the weekend of the festival are currently selling for over CDN$300/night – thank you and congratulations to everyone who booked early and saved over $100/night! We are working with the hotel to secure some more discounted rooms for our group booking which will save attendees $50/night, but we will likely only be able to get 10 more rooms maximum. We'll post on the website the second they are available, so be ready to grab them! You only need to put down a deposit to secure a room, and you can cancel right up to the day before the festival for a full refund if you change plans!
read more