VFW PUSHED TO 2021, BUT WE STILL HAVE ONLINE KINK EVENTS ON THE 2nd SATURDAY OF EVERY MONTH!
Scroll down for the latest news bulletins from VFW, including news from our monthly fetish night, Sin City, which has online gatherings on the 2nd Saturday of every month! The absolute best way to stay in touch with both digital and in-person events related to VFW is to sign up for our Newsletter!
RSVP to VFW2021 on FACEBOOK / RSVP on FETLIFE
VFW is a full summer weekend fetish holiday, packed with events where you can show your biggest and best fetish outfits, punctuated by thrilling world class entertainment and fetish fashion shows, events where you can get kinky with your pervy playmates, but also enjoy relaxed and daytime activities where you can solidify friendships. As always, the Friday of VFW features a large-scale themed ball which changes every year to keep things fresh and inspirational, next year themed as the LUST IN SPACE SCI-FI FETISH BALL, in addition to our Saturday night main event and many other activities, including the world-famous VFW Fetish Cruise and Decompression Group Beach Trip on Monday.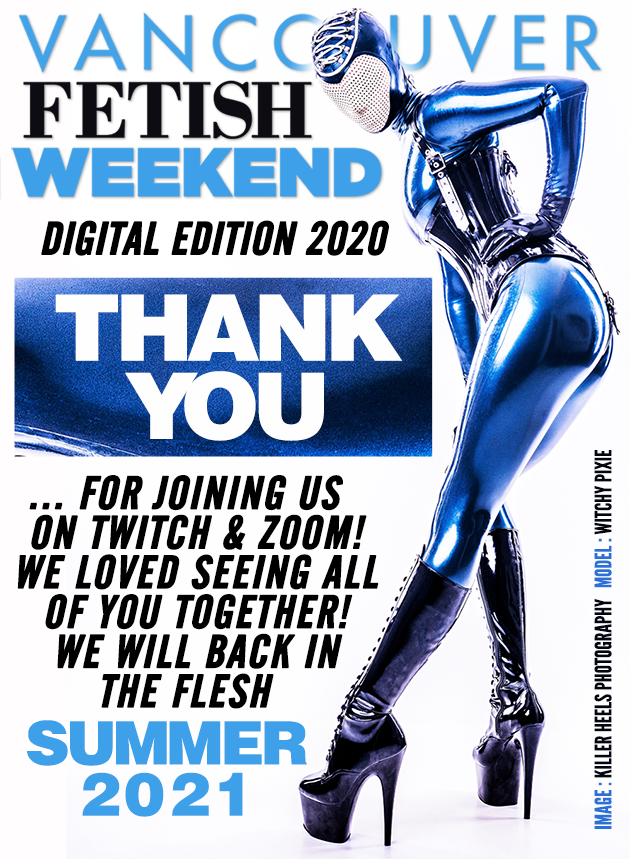 A huge, huge, HUGE thank you everyone who joined this past weekend for Vancouver Fetish Weekend's ONLINE festival.
While obviously we couldn't have our full-scale in the flesh gathering of 8 events over 5 days as usual, we leapt at the opportunity to use the connecting powers of the internet to bring people together with three days of online events instead as the next best thing. In the end we had 15 DJs representing alternative and fetish communities from 10 cities around the world participate, along with many hundreds of people from music fans tuning in to just the Twitch livestream and chat, to full on kinksters getting wild in the more private Zoom group video parties.
We loved seeing you all together and feeling all the energy connecting us all, quarantine be damned! In particular for us in Vancouver, this is RIGHT when the heatwaves start and summer truly feels to have arrived, and is when the city is in the days right before the launch of gay pride celebrations, and the uplifting feeling was a shot of positivity in the heart, minds and souls that I think everyone needed <3Fate and fortune willing, that this all is settled by next summer, we will be BACK in the flesh and able to meet in person again in late July for Vancouver Fetish Weekend 2021, meeting old friends and new, in our corner of the world in beautiful Vancouver.
VFW2021 Event Listing on Facebook :
http://www.facebook.com/events/312855879853987/
We DO livestream as DJ Pandemonium and Evilyn13 from our Restricted Entertainment HQ up to 3x a week, and we do our monthly Sin City Fetish Night on the second weekend of every month, but the energy of Vancouver Fetish Weekend is on a whole other level beyond any of that, and only happens once per year. It really is a special thing with a community all on its own that has grown up over the last 8+ years, and it transcends everything else that we do, because of the energy and heart and soul that so many people from so many places put into it.
We love you and miss you all and feel very thankful to have you in our lives, whether as new or old attendees in person, or just followers online enjoying what we do!
MUCH LOVE FROM US TO YOU!
Isaac T / DJ Pandemonium
Restricted Entertainment / Vancouver Fetish Weekend
read more