WELCOME TO VANCOUVER FETISH WEEKEND!
July 26-30, 2018 : Meet, party, and play with hundreds of local and global fetish enthusiasts from all over the world as the international community of fetish partiers, performers, models, designers, artists and photographers descends on Vancouver at a truly world-class weekend of unforgettable fun, exotic & erotic events!
---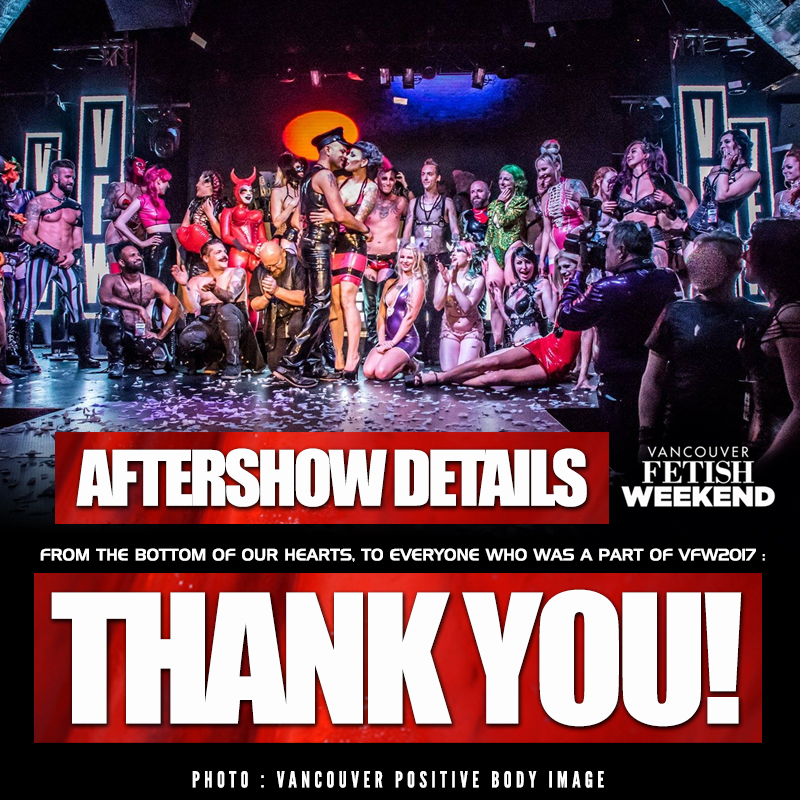 Now that the sun has set on Vancouver Fetish Weekend 2017, from the bottom of our hearts, we send out the hugest THANK YOU to everyone who was a part of VFW2017. We know everyone has some burning questions – like, "Where are the photos?" Read on for the answers to most burning aftershow details!
LOCAL & INTERNATIONAL LOVE!
In just a few short years, Vancouver has become internationally known as a vibrant, warm & inviting scene to the fetish community, with our annual celebration catapulting into one of the top don't-miss fetish destinations in the European and North American scenes. We cannot express our gratitude enough for all the goodwill extended to our festival from both the many groups and individuals in our local Vancouver scene, and also to our international friends who have helped spread the word and travelled here to Vancouver from so many far off places around the globe. Yes, we work our tails off all year to put all the details for this festival together, but without you, we are nothing!
read more