VFW PUSHED TO 2022, BUT WE STILL HAVE ONLINE KINK EVENTS ON THE 2nd SATURDAY OF EVERY MONTH!
Unfortunately we have had to make the difficult but necessary decision to postpone another year due to the uncertainty surrounding mass social gatherings due to the ongoing CoVid-19 pandemic. However, we are anticipating coming back even bigger and better!  Mark yourself as GOING at one of our social media event listing links below and get ready! Full press release regarding the push to 2022 coming in the next few days.  We're just in the process of changing up all our online events listings across all social media platforms, as well as on this website, so please bear with us for the next little while!
In the meantime, we continue to host monthly ONLINE events via our monthly fetish night, Sin City, on the 2nd Saturday of every month!  For information about those parties, head to the Sin City website here!
The absolute best way to stay in touch with both digital and in-person events related to VFW is to sign up for our Newsletter!
RSVP to VFW2022 on FACEBOOK / RSVP on FETLIFE
VFW is a full summer weekend fetish holiday, packed with events where you can show your biggest and best fetish outfits, punctuated by thrilling world class entertainment and fetish fashion shows, events where you can get kinky with your pervy playmates, but also enjoy relaxed and daytime activities where you can solidify friendships. As always, the Friday of VFW features a large-scale themed ball which changes every year to keep things fresh and inspirational, next year themed as the LUST IN SPACE SCI-FI FETISH BALL, in addition to our Saturday night main event and many other activities, including the world-famous VFW Fetish Cruise and Decompression Group Beach Trip on Monday.
THIS SATURDAY! Livestream, live DJs and public chat from 7pm-3am, private Zoom video party & chat from 9pm-2am.
The link and password to join the video party will appear RIGHT HERE at approx 8:45 PM Saturday night.
Note that to join you will need to be in fetish attire, and enter a password, which will also be emailed out to the VFW Newsletter list at 8:45 PM Saturday night. Make sure you are signed up before that! You can unsubscribe anytime. Once you are signed up you do not need to do anything else, just wait for the email and the link to arrive in your inbox, and you'll be good to go!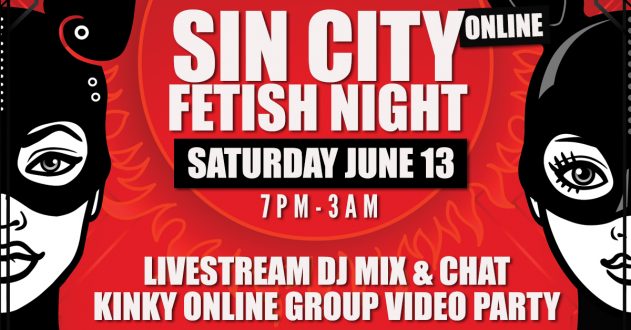 This is a FREE eight-hour event, but it would be HUGELY appreciated if you could support the organizers and artists working to give us somewhere to come together by buying a virtual 'ticket' and thereby making a donation, at one of the links above!
Seeing as how -in-the-flesh fetish gatherings don't look to be possible any time soon, the Sin City and Vancouver Fetish Weekend crew are gearing up to bring you the next best (and MUCH NEEDED) thing – an online fetish party for the local and international kink community. Join us, share the event and invite friends! Read on for more info!
RSVP on FACEBOOK / RSVP on FETLIFE
read more