VFW PUSHED TO 2021, BUT WE STILL HAVE ONLINE KINK EVENTS ON THE 2nd SATURDAY OF EVERY MONTH!
Scroll down for the latest news bulletins from VFW, including news from our monthly fetish night, Sin City, which has online gatherings on the 2nd Saturday of every month! The absolute best way to stay in touch with both digital and in-person events related to VFW is to sign up for our Newsletter!
RSVP to VFW2021 on FACEBOOK / RSVP on FETLIFE
VFW is a full summer weekend fetish holiday, packed with events where you can show your biggest and best fetish outfits, punctuated by thrilling world class entertainment and fetish fashion shows, events where you can get kinky with your pervy playmates, but also enjoy relaxed and daytime activities where you can solidify friendships. As always, the Friday of VFW features a large-scale themed ball which changes every year to keep things fresh and inspirational, next year themed as the LUST IN SPACE SCI-FI FETISH BALL, in addition to our Saturday night main event and many other activities, including the world-famous VFW Fetish Cruise and Decompression Group Beach Trip on Monday.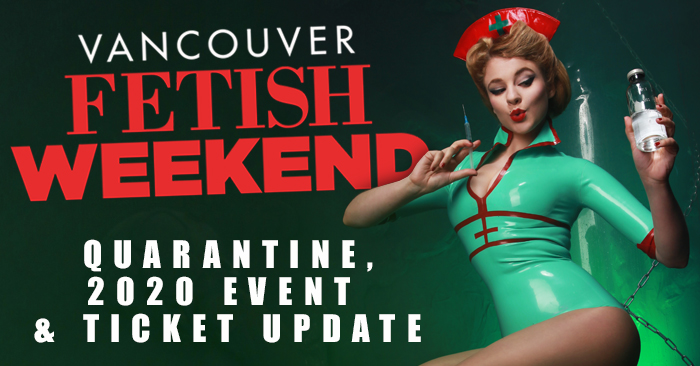 Hello to all our friends and extended fetish family in the international kink community! Rest assured we have indeed been getting all the emails and inquiries from people asking what the global Covid-19 health crisis and quarantine measures mean for Vancouver Fetish Weekend 2020.
Obviously, like everyone, we hope that a gathering of some sort is still possible on the weekend VFW was originally planned for, but the reality is that this is by no means certain as the global pandemic continues and the information and timelines surrounding quarantine and safety measures evolve each day. Whatever happens, we are taking everyone's safety as our first priority, and as our first consideration when looking at the timelines of what may still be possible.
read more