THANK YOU ALL FOR JOINING US FOR VFW2022!!
The countdown has already begun to 2023!  We are predicting a BIG jump in attendance, closer to 700 Friday / 1000 Saturday, so book the time off early and get ready to once again join all your international kinky friends in Vancouver for a full summer weekend fetish holiday, packed with events where you can show your biggest and best fetish outfits, punctuated by thrilling world class entertainment and fetish fashion shows, events where you can get kinky with your pervy playmates, but also enjoy relaxed and daytime activities where you can solidify friendships and connections.  As you know, the Friday of VFW always features a large-scale themed ball which changes every year to keep things fresh and inspirational.  Next year will be themed WILD KINGDOM, showcasing fantastic and ferocious fetish creatures of all kinds!  This of course will be in addition to our Saturday night main event and many other activities, including the world-famous VFW Fetish Cruise and Decompression Group Beach Trip on Monday.
RSVP to VFW2023 on FACEBOOK / RSVP on FETLIFE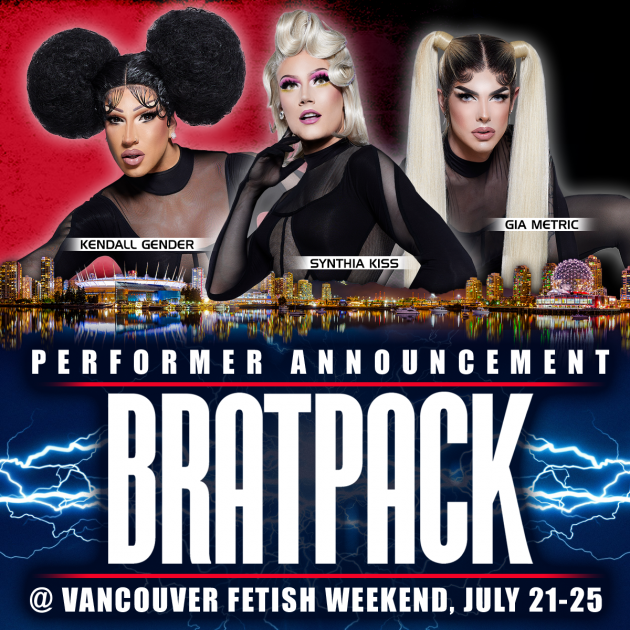 HUGE PERFORMER ANNOUNCEMENT! Legendary drag troupe THE BRATPACK will be joining us for Vancouver Fetish Weekend 2022, with a marquee performance at the main event at Harbour Event & Convention Center on Saturday, July 23!
If you live in Vancouver, you of course know the Bratpack from their long-running weekly drag shows at the Junction in the West End, and beyond. Now while they have been performing at VFW the last few years, a little thing happened since we last had them hit our stage. And that little thing was that not one, not two, but three Bratpack members made it onto Canada's Next Drag Race, where they reached a global audience, levelled up their game 1000x, and legitimately became international superstars!
We are THRILLED to be welcoming back KENDALL GENDER, SYNTHIA KISS and GIA METRIC, and can't wait to see what they have cooked up for us!
Please follow them at their Instagrams, linked below!
Kendall Gender / Synthia Kiss / Gia Metric
read more