VFW 2019 : JULY 25-29
Best Of VFW / Red Carpet Interviews (NSFW) from Restricted Entertainment on Vimeo.
SCROLL DOWN FOR THE NEWEST INFO!
VFW is a full summer weekend fetish holiday, packed with events where you can show your biggest and best fetish outfits, punctuated by thrilling world class entertainment and fetish fashion shows, events where you can get kinky with your pervy playmates, but also enjoy relaxed and daytime activities where you can solidify friendships. As always, the Friday of VFW features a large-scale themed ball which changes every year to keep things fresh and inspirational, this year themed as the 7 DEADLY SINS, in addition to our Saturday night main event and many other activities, including the world-famous VFW Fetish Cruise.
---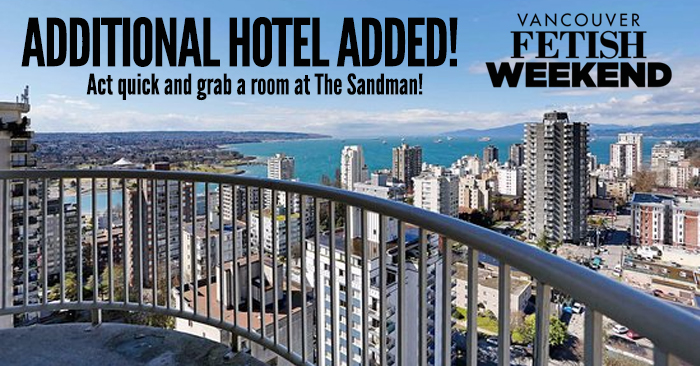 MAIN HOST HOTEL UPDATE :
Our main host hotel at the Holiday Inn is technically sold out, but this is the time where rooms sometimes do become available as people release holds on rooms as their plans may have changed. It is always worth a call to them to see if a room is available under the group block before looking at other options!  The main host hotel is where our free shuttle runs from on the Monday beach day, and where the Saturday fetish photo tour starts from, and is where the single biggest group of VFW attendees will be staying!
To check the Holiday Inn, call 1-604-684-2151, and make sure to state that it is for the Vancouver Fetish Weekend group when inquiring about dates and prices. Keep reading for more full info!
ADDITIONAL OVERFLOW HOTEL AT THE SANDMAN ADDED, OR TRY AIRBNB!
Option #1 – Sandman (recommended)
We have ALSO secured a discounted group rate at The Sandman, a higher end hotel just a few blocks away from our main host hotel at the Holiday Inn. The Sandman offers many higher-end amenities, such as ocean view balconies, and in-suite jacuzzis! Read on for full details on how to book at this hotel. Located right in the heart of the bustling and kink-friendly Davie St gay village, it's an easy 3-4 block to walk over to connect up with friends at the Holiday Inn, and make use of the shuttle services we have there for the Monday Beach trip & more.  PLEASE NOTE – there is NO CAB ACCESS to the Sandman on the Saturday of VFW as the area is closed to vehicle traffic for fireworks night at nearby beaches.  However it is an easy 1 1/2 block walk to catch a cab from there!
To book the Sandman, call the hotel directly at 604-681-7263, and make sure to say it is for the Vancouver Fetish Weekend group.
Option #2 – AirBnb
In the absence of being able to find an affordable hotel, we suggest you try to find an AirBnB! Keep reading for booking links, and for a list of suggested neighbourhoods.
read more