WE ARE FULLY CONFIRMED FOR JULY 21-25, 2022!
(Please scroll down for most recent news releases!)  Join all your international kinky friends in Vancouver for a full summer weekend fetish holiday, packed with events where you can show your biggest and best fetish outfits, punctuated by thrilling world class entertainment and fetish fashion shows, events where you can get kinky with your pervy playmates, but also enjoy relaxed and daytime activities where you can solidify friendships and connections.  The Friday of VFW features a large-scale themed ball which changes every year to keep things fresh and inspirational, this year themed as the LUST IN SPACE SCI-FI FETISH BALL, in addition to our Saturday night main event and many other activities, including the world-famous VFW Fetish Cruise and Decompression Group Beach Trip on Monday.
RSVP to VFW2022 on FACEBOOK / RSVP on FETLIFE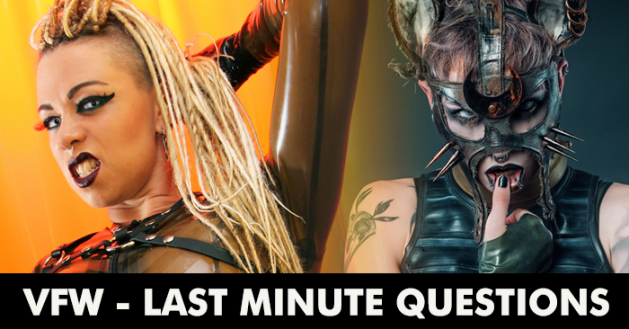 IT'S GO TIME FOR THE FIRST OFFICIAL MAIN CLUB EVENT, AND WE KNOW YOU HAVE QUESTIONS! HERE'S THE ANSWERS :
"Can I still get tickets? Where?"
Both Friday and Saturday are looking CRAZY busy, but there are a few tickets left. You can get them online at www.vancouverfetishweekend.com , or you can try just buying at the door, but this is subject to capacity, and you will almost definitely have a wait to get in as you will be behind advance ticket holders, who have priority entrance.
"How do I transfer my ticket to someone else?"
This information is easy to find online, either Google something like EVENTBRITE TICKET TRANSFER, and follow the instructions. Do not just click 'contact the organizer' and send an email and expect someone else to do this for you – emails to the organizer asking questions about information that is available online or on the website will be placed low priority on the monstrous to-do list of everything needed to get the event ready for everyone!
"When should I arrive to beat the line?"
We cannot guarantee or predict when lineups will form or how long they will be. However it is always best to arrive before 10:30 PM for speedier entry, and you do not want to miss a second of this party anyway!
read more