July 29 – Fetish Walk, Group Photo & Pub Patio Meetup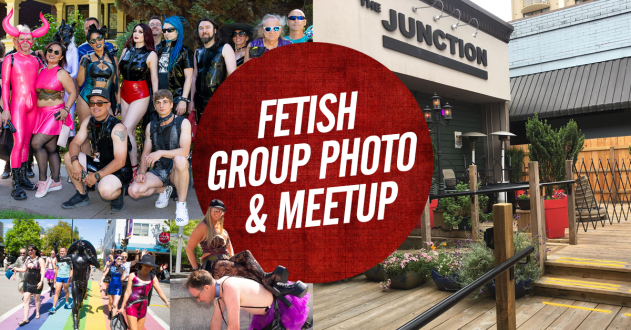 RSVP on FACEBOOK / RSVP on FETLIFE
The Fetish Walk & Group Photos start at 2 PM at the host hotel Holiday Inn at 1110 Howe, and the Pub Meetup starts at 3 PM at The Junction at 1138 Davie! Read on for more details!
DAYTIME KINK PHOTO & PUB PATIO MEETUP!
Join us at a FREE daytime activity for added fun and social connection during Vancouver Fetish Weekend 2023! Get together with fetish friends for a daytime group photo at a public landmark close to the host hotel, then meet up for cold drinks, brunch and good times on the sunny outside patio deck at The Junction on Davie St! Public appropriate fetish daywear highly encouraged but not required! We will be sending down our videographers and photographers and some of the gathering will be in the official video of VFW2023!
Join us for the Walk at 2, or just meet at the Pub at 3!
The meetup is open to any and all friends who want to participate, whether they are going to Vancouver Fetish Weekend or not! Come hang out!
1:45-2 PM – Meet at host hotel lobby at Holiday Inn, 1110 Howe St. Tour guides Lord & Lady Sin from Sinners & Pervs Latex will meet you and take everyone on the short fetish walk of through downtown Vancouver past local landmarks and photo-worthy spots. Please take lots of photos!
The Walk is approximately 1.25 hours, but you are never far from the host hotel, if people want to drop off or join at any point!
2 – leave host hotel, walking past several nearby fountains.
2:30 – meet up at the Art Gallery steps, Georgia Street side. Take photos on the steps with the iconic stone lions and hang out for about 15 minutes!
2:45 – leave for another short walk through the heart of the beautiful West End, through a secret green walkway, past the Rainbow crosswalk, towards the Junction Pub at 1138 Davie. There are plenty more photo opportunities on the way!
3-3:15 – arrive at Junction, where we have a big space reserved on their newly expanded outdoor patio. 50+ kinksters expected! Pub meetup host Mistress Mercedes and Junction manager Byron will be there to welcome you! There are big patio umbrellas to hide under if the sun is your enemy, and you can always pop inside to cool off!
Just drop by to say hi, or stay for as long as you like. Davie Street has a great daytime street vibe, right in the heart of the Gay Village, gearing up for Vancouver's massive Pride celebrations next week.
NOTE – there are LOTS of place to grab food all around this pub, as well as at the pub itself, of course!