July 28 – Fetish Group Fountain Photo & Pub Patio Meetup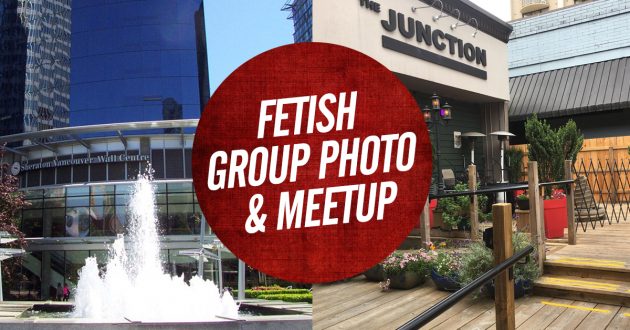 We've added another FREE daytime activity for added fun and social connection during Vancouver Fetish Weekend 2018! Get together with fetish friends for a daytime group photo at the beautiful fountain outside the Wall Center on the corner of Burrard & Nelson St, with a historic church in the background, then meet up for cold drinks, brunch and good times on the sunny outside patio deck at the Junction on Davie St! Public appropriate fetish daywear highly encouraged but not required!
2 PM – Meet at host hotel lobby at Holiday Inn, 1110 Howe St.
Tour guide Samantha Mack will meet you and take everyone on the short fetish walk of 2-3 blocks to the nearby fountain plaza. Please take lots of photos!
2:15 – leave host hotel.
2:30 – meet up at fountain on the corner of Burrard & Nelson & take photos!
2:45 – leave fountain for the short 3-4 block walk to the Junction Pub at 11:38 Davie. There is a community garden and more photo opportunities on the way!
3 – arrive at Junction, where we have a big space reserved on their beautiful outdoor patio. Our pub meetup hosts will be there to welcome you!
Just drop by to say hi, or stay for as long as you like. Davie Street has a great daytime street vibe, right in the heart of the Gay Village, gearing up for Vancouver's massive Pride celebrations one week later.
NOTE – there are LOTS of place to grab food all around this pub, as well as at the pub itself, of course!