Wild Kingdom Fetish Ball | July 28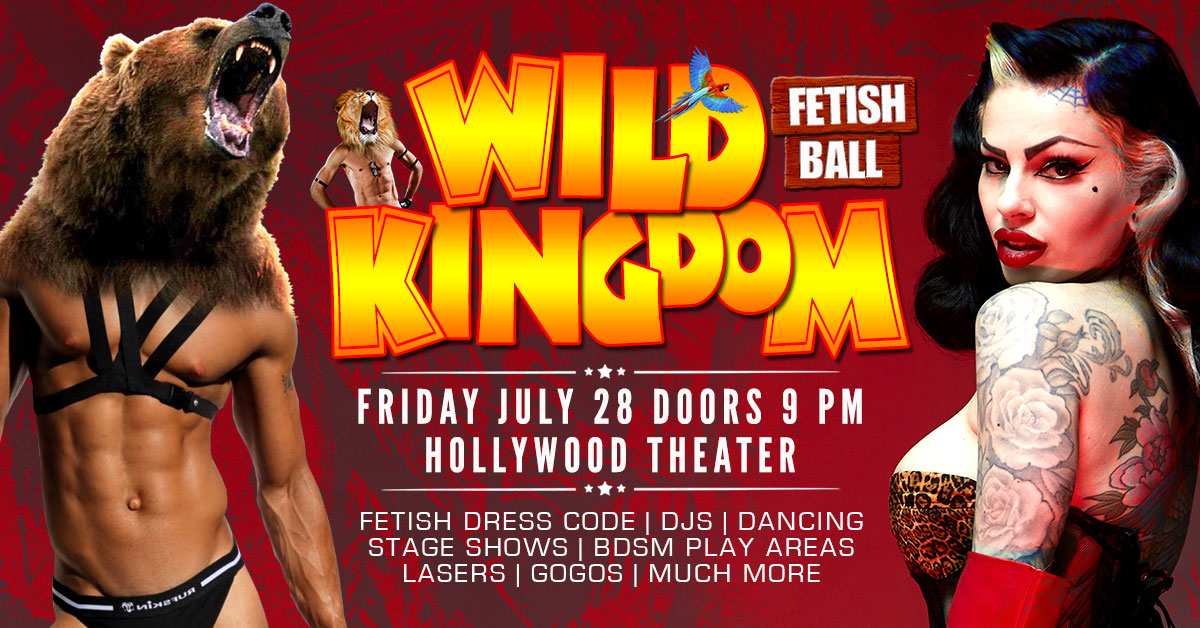 RSVP on FACEBOOK / RSVP on FETLIFE
Venue Details :
HOLLYWOOD THEATRE
3123 W Broadway
9pm-2am
Full coat check and bar service available on site. You are always welcome to change once you have arrived.
PLEASE NOTE – this venue has a very even but slightly sloped main dancefloor area. This makes for excellent viewing for the stage shows even from the back of the room, but you may wish to forgo taller heels for this party and stick with easier footwear. The main social area, play areas, bathrooms, bar areas are all flat however!
Performers :
Marie Devilreux … (UK / Brazil)
Natasha Nebula … (Montreal)
Val Vampyre … (Fort Lauderdale)
Seattle Shibari
Madam Lola … (Vancouver)
Melody Mangler … (Vancouver)
Ravenous Randy … (Vancouver)
Shreddz … (Vancouver)
DJs :
Davide … (Cirque De Boudoir / Montreal)
Evilyn13 … (Sin City Fetish Night / Vancouver)
Deadhead … (Sin City Fetish Night / Vancouver)
Gogos :
Electric Obsidian
Chorosive Dark Fusion
Hosted by Isaac T
---
The 9th annual Vancouver Fetish Weekend kicks into high gear with the opening WILD KINGDOM FETISH BALL!
A gorgeous, renovated theatre venue with a totally unique atmosphere. The first night of Vancouver Fetish Weekend features…
· DJs, dancing, socializing & play
· Dungeon & play gear throughout
· Sexy fetish stage performers & go-go's
· Lots of plush theatre seating
· Festival laser installation
OPTIONAL OUTFIT THEME : WILD KINGDOM / SEXY CREATURES / KINKY KITTIES /DEVIANT DOGGIES / PERVY PUPS & PIGGIES / AQUATIC & AVIAN ANIMALS / FEATHERS / FUR / FANGS / EARS / TAILS / SCALES / ANIMAL PRINT
---
FETISH DRESS CODE IN EFFECT AT ALL TIMES
The Wild Kingdom theme is NOT compulsory. All outfit styles are welcome so long as they meet our kinky / sexy / fetish / pervy dress code! Read more about our fetish dress code here.
PLEASE READ CODE OF CONDUCT AND NO PHOTO POLICY BEFORE ATTENDING
Before attending events at Vancouver Fetish Weekend, please take a look at our code of conduct, established to make sure all attendees have a fun, sexy, and safe time. We also have a no photo policy to ensure everyone's privacy, although our official event photographers will be on hand if you want to capture the moment. Read more about our photo policy and your privacy here.