Events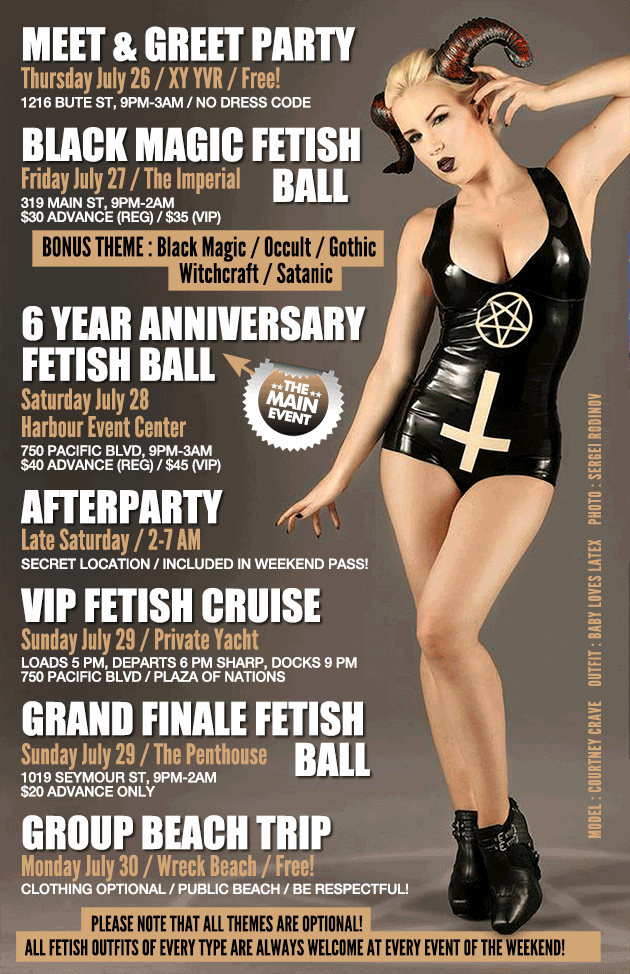 Thursday July 26 – Pre-Party
Kinky Cocktails Meet & Greet
XY YVR
1216 Bute St, Vancouver, BC V6E 1Z8
9:30PM-3AM
Free / No Dress Code / Early ticket & weekend pass pick-up available!
---
Friday July 27 – Opening Night
Black Magic Fetish Ball
Imperial Vancouver
319 Main St, Vancouver, BC V6A 2S9
9PM-2AM
$30 advance / $30 VIP / more at the door
Voodoo, Witchcraft, Black Magic & Occult themes highly encouraged, but any and all fetish/kink themes are welcome!
---
Saturday July 28 – Free Daytime Get Together!
Fetish Fountain Photo & Patio Pub Meetup
2 PM – leaves host hotel 1110 Howe St
2:30 – meet at Emery Barnes Park Fountain, Davie & Richards
3-3:15 – Meet at The Junction Pub Patio, 1138 Davie
Stay for a few drinks & hang out – it will be HOT!
---
Saturday July 28 – The Main Event!
6 Year Anniversary Fetish Ball
Harbour Event Center
750 Pacific Blvd, Vancouver, BC V6Z 2R8
9PM-3AM
$40 advance regular, $45 VIP, more at the door
---
July 28/29 (late Saturday) – Official Afterparty
Red Light District Dance & Play Party
Secret location given out to ticket holders only
(Downtown special event studio space)
2-7AM
Admission IS included in the VIP Weekend Pass, no need for an additional ticket!
Complimentary limo shuttle service from Saturday venue to afterparty for VIP Weekend Pass Holders.
You can buy a ticket to the party at the door, no advance tickets otherwise.
---
Sunday July 29 – The World-Famous VIP Fetish Cruise
Boards at 5PM sharp, leaves 6PM with or without you, docks 9PM
Departs from Dock B at the Plaza Of Nations, 750 Pacific Blvd
Available only to full weekend pass holders!
---
Sunday July 29 – Closing Party
Grand Finale Bondage Ball
The Penthouse
1019 Seymour St, Vancouver, BC, V6B 2E8, (604) 683-2111
9PM-2AM
$20 advance, $25 at the door
Full Sunday Closing Party Info
---
Monday July 30 – Decompression Time!
Group Trip To Wreck Beach
1-9 PM
FREE to attend + FREE SHUTTLE for VFW Weekend Pass Holders!
Clothing Optional / Public Beach / Be Respectful!
---