THANK YOU!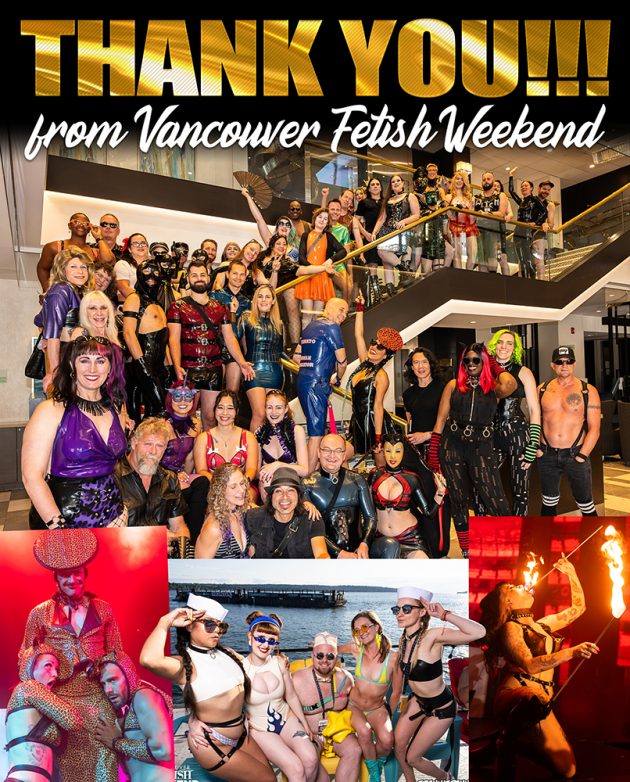 The last few trucks have been unloaded, all gear has been returned, and other than a few select kinksters who have stayed in Vancouver the extra week to experience the upcoming Gay Pride Weekend, all our international traveller fetish friends have returned home, drawing an official close to Vancouver Fetish Weekend 2023, by FAR the biggest one yet!
There's already a sneak peek quick picks photo gallery up on the VFW website! Go check it out –> HERE
A GIGANTIC thank you to everyone who attended and brought your boundless creativity, energy and sexy self-expression to all the events! Without you, there is no festival! While the attendance grew about 20% bigger this year in terms of overall numbers, it absolutely felt like it grew by leaps and bounds way above that in terms of how hard everyone BROUGHT IT! Especial thank you to the rubber community who were a major force all weekend!
Thank you to our amazing performers and DJs! There were so many moments at all of the events that had all of our jaws dropping and causing the hugest roars from the audience!
Thank you to all the staff and venues who welcomed us in, loved every moment of having us there, and were so accommodating to all our crazy needs and requests for all the unique requirements that events like ours need to get the vibe just right.
Thank you to all our hard working volunteers and show staff who were there many hours before doors opened at every event, and also there hours afterwards! Not to mention our admissions team, dress code, dungeon monitors and hosts and consent staff, all of whom are the backbone of being able to keep our events a 100% immersive kink environment, as well as a safe & sane place to play.
Can you believe next year is the Vancouver Fetish Weekend 10 YEAR ANNIVERSARY? We are expecting a HUGE jump in attendance! We will be making tickets and hotel bookings available MUCH earlier this year, to facilitate everyone making plans further out, so please keep an eye out for news of when they go live!
The event listings on Facebook and Fetlife are already up! Make sure to click on GOING, and to sign up to the Newsletter at the VFW website, to get notice of tickets and hotels the second it happens!
NEWSLETTER SIGNUP / FACEBOOK EVENT / FETLIFE EVENT / FOLLOW VFW ON INSTAGRAM
Humbly yours,
Isaac T / DJ Pandemonium
Restricted Entertainment / Vancouver Fetish Weekend