DO YOU HAVE YOUR TICKETS YET?
Get ready to once again join all your international kinky friends in Vancouver for a full summer weekend fetish holiday, packed with events where you can show your biggest and best fetish outfits, punctuated by thrilling world class entertainment and fetish fashion shows, events where you can get kinky with your pervy playmates, but also enjoy relaxed and daytime activities where you can solidify friendships and connections.  As you know, the Friday of VFW always features a large-scale themed ball which changes every year to keep things fresh and inspirational.  This year will be themed WILD KINGDOM, showcasing fantastic and ferocious fetish creatures of all kinds!  This of course will be in addition to our Saturday night main event and many other activities, including the world-famous VFW Fetish Cruise and Decompression Group Beach Trip on Monday.
GET TICKETS / RSVP on FACEBOOK / RSVP on FETLIFE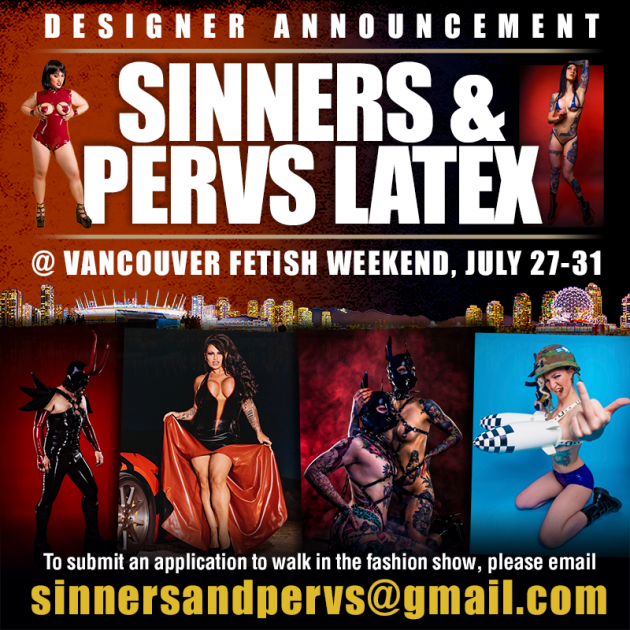 We are proud to announce that SINNERS & PERVS LATEX will be showcasing a main stage, prime time, full scale runway fashion show at Vancouver Fetish Weekend 2023!
Bio:
Sinners & Pervs is a Vancouver-based latex clothing and accessories designer. Lead designer Shawn Albert always had an interest in fashion and back in 2000 discovered the latex clothing world, which quickly led to working for the ground breaking Vancouver rubber clothing company MOR for several years. Shawn started off designing and making all the accessories, which led to taking on the main clothing lines as well. Fast forward several years and contracts later, Shawn decided to turn his part time obsession into a full time business.
"I remember back in my early 20's making a custom Halloween costume out of latex and thinking it would be incredible to do a full-on fashion show one day. Well, that day is coming up very soon. A huge thank you to everyone who has supported me and my business over the years." ~ Shawn Albert
Model Submissions :
Sinners & Pervs will be accepting model submissions to fill a limited number of spots for their showcase. POC / female / male / non-binary / trans and every type of body welcome. If interested, please send an email to : sinnersandpervs@gmail.com
Please be sure to include at least one photo of your current look, any relevant model, performer or runway experience, and any links to Facebook or Instagram accounts.
Check out more of Sinners & Pervs Latex at their Instagram & Etsy Shop.
read more