THANK YOU ALL FOR JOINING US FOR VFW2022!!
The countdown has already begun to 2023!  We are predicting a BIG jump in attendance, closer to 700 Friday / 1000 Saturday, so book the time off early and get ready to once again join all your international kinky friends in Vancouver for a full summer weekend fetish holiday, packed with events where you can show your biggest and best fetish outfits, punctuated by thrilling world class entertainment and fetish fashion shows, events where you can get kinky with your pervy playmates, but also enjoy relaxed and daytime activities where you can solidify friendships and connections.  As you know, the Friday of VFW always features a large-scale themed ball which changes every year to keep things fresh and inspirational.  Next year will be themed WILD KINGDOM, showcasing fantastic and ferocious fetish creatures of all kinds!  This of course will be in addition to our Saturday night main event and many other activities, including the world-famous VFW Fetish Cruise and Decompression Group Beach Trip on Monday.
RSVP to VFW2023 on FACEBOOK / RSVP on FETLIFE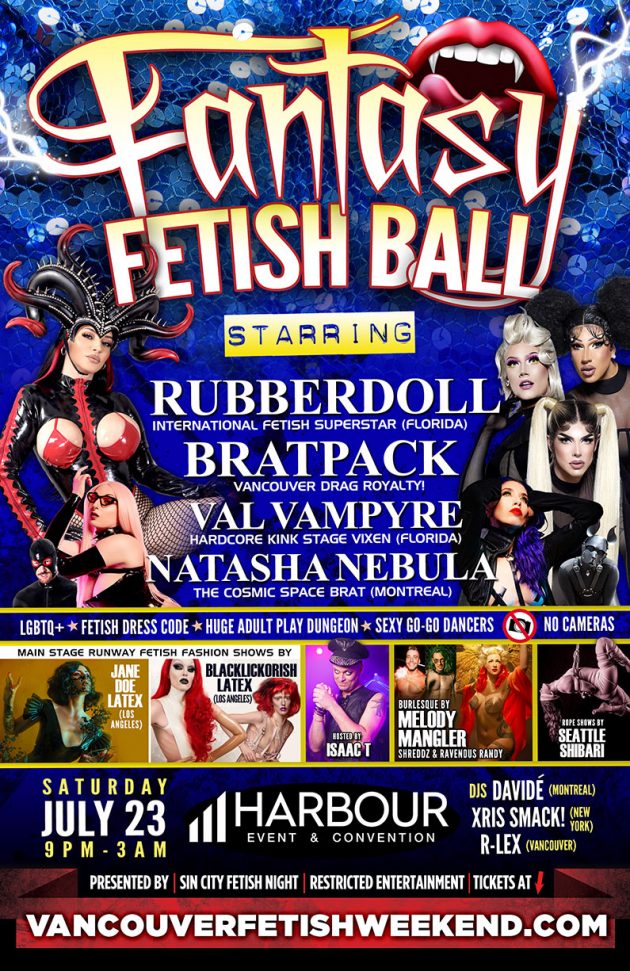 GET READY FOR THE BIGGEST KINK EVENT TO EVER HIT VANCOUVER!
Featuring DJs, designers, models, performers, and most important of all, wildly creative attendees from all over the world descending on the city, and combining with our eclectic local scene to make for a truly unforgettable and unique weekend. There are seven events and gatherings from Thursday to Monday, including the legendary Fetish Cruise on Sunday, but the main event this year takes VFW to an entire new scale of over-the-top kink party experience!
SATURDAY JULY 23 – be part of a fetish takeover of the stunning HARBOUR EVENT & CONVENTION CENTRE – featuring a 30 foot wide stage, extra runway extension, staggering 80 foot wide visuals installation, 10,000 watt PK sound system to drive those dirty beats deep into your body, plus all of the immersive extra elements that make VFW such an incredible experience, including … custom built dance cages, BDSM play dungeon with padded benches and large scale rope play structures, kinky carnival games, glamour photo areas and much, much more for everyone to sink their fangs into!
Early bird tickets –> SOLD OUT
Tier 1 tickets –> LESS THAN 10 LEFT!
If you can only make one event, it's the main event on the Saturday night!
Reminder that the Cruise and Friday & Saturday club events are FETISH DRESS CODE – a huge part of what makes the events so special is every single person in attendance being part of the party, bringing their own energy and creative and sexual self-expression into the mix! From mild to wild, all flavours and styles are welcome, so long as they pass the fetish dress code … absolutely no plainclothes allowed! While we have staff photographers and photo booths where you can show yourself off, there is otherwise NO PHOTOGRAPHY PERMITTED anywhere at the event, to create a vibe where everyone is free to get as wild as they like with their outfits, from full coverage, to bare-as-you-dare … just reminder, a g-string minimum must be kept at all times!
read more