THIS SATURDAY! Livestream, live DJs and public chat from 7pm-3am, private Zoom video party & chat from 9pm-2am.
The link and password to join the video party will appear RIGHT HERE at approx 8:45 PM Saturday night.
Note that to join you will need to be in fetish attire, and enter a password, which will also be emailed out to the VFW Newsletter list at 8:45 PM Saturday night. Make sure you are signed up before that! You can unsubscribe anytime. Once you are signed up you do not need to do anything else, just wait for the email and the link to arrive in your inbox, and you'll be good to go!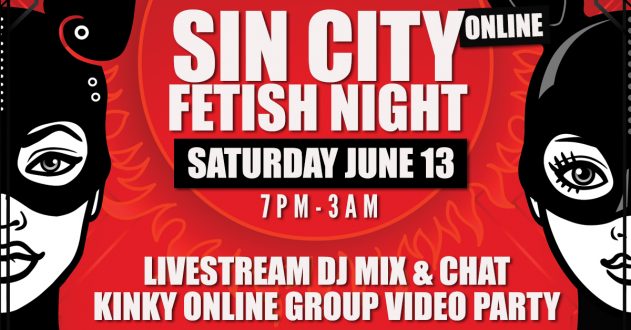 This is a FREE eight-hour event, but it would be HUGELY appreciated if you could support the organizers and artists working to give us somewhere to come together by buying a virtual 'ticket' and thereby making a donation, at one of the links above!
Seeing as how -in-the-flesh fetish gatherings don't look to be possible any time soon, the Sin City and Vancouver Fetish Weekend crew are gearing up to bring you the next best (and MUCH NEEDED) thing – an online fetish party for the local and international kink community. Join us, share the event and invite friends! Read on for more info!
RSVP on FACEBOOK / RSVP on FETLIFE
Read More