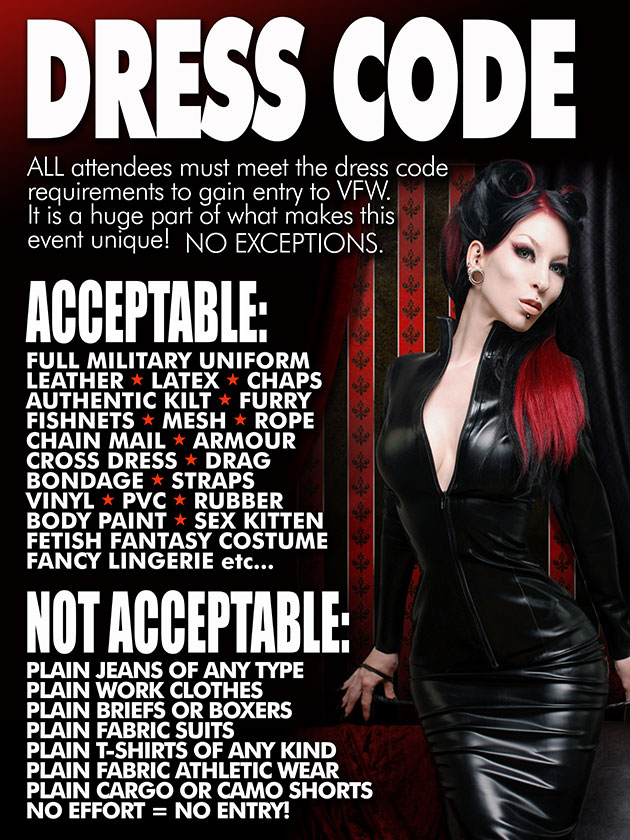 Greetings to all Vancouver Fetish Weekend 2023 ticket holders!  Thank you for supporting VFW, Restricted Entertainment, and being a part of the sex-positive community!
VFW2023 officially starts TOMORROW at the Meet & Greet at Numbers Cabaret, which is completely free, casual, no cover and no dress code, but of course we do encourage people to dress up, and many people do!
This is your reminder that all the daytime free meetups (Saturday Fetish Walk, Pub Meetup and Monday Beach Day) are all no dress code and casual affairs, all the main club events and cruise are FETISH DRESS CODE!
The fetish dress code is a huge part of what makes the events as special as they are, as every single person contributes to the incredible immersive vibe!
Plainclothes are not allowed – yes, that also means no plain fabric suits, even if they're "snazzy." No effort at presenting a fetish look = no entry, no refunds.
For a full listing of dress code do's and don'ts, click HERE.
Many people go ALL OUT with extravagant and elaborate outfits, outfits do not have to be expensive – just fun and creative – but make no mistake, you *will* be rejected if you try and enter in a plain work or clubbing outfit that you could wear on the street or a normal club.  Do not disappoint yourself or your friends, or our dress code authorities at the door!  Their word is final say!
If you don't have an oufit yet, time to treat yourself with a shopping trip!  We highly recommend :
DEADLY COUTURE – 1599 Venables St – (604) 688-3766
IN ADDITION – for the Friday event, while ANY and ALL fetish outfits are accepted, we highly encourage people to join in the optional WILD KINGDOM outfit theme! Just some ideas :
– SEXY CREATURES
– KINKY KITTIES
– DEVIANT DOGGIES / PERVY PUPS & PIGGIES
– AQUATIC & AVIAN ANIMALS
– FEATHERS / FUR / FANGS / EARS / TAILS / SCALES
– ANIMAL PRINT
Read More