WHAT'S NEW, WHAT'S THE SAME! THREE WEEKS TO GO!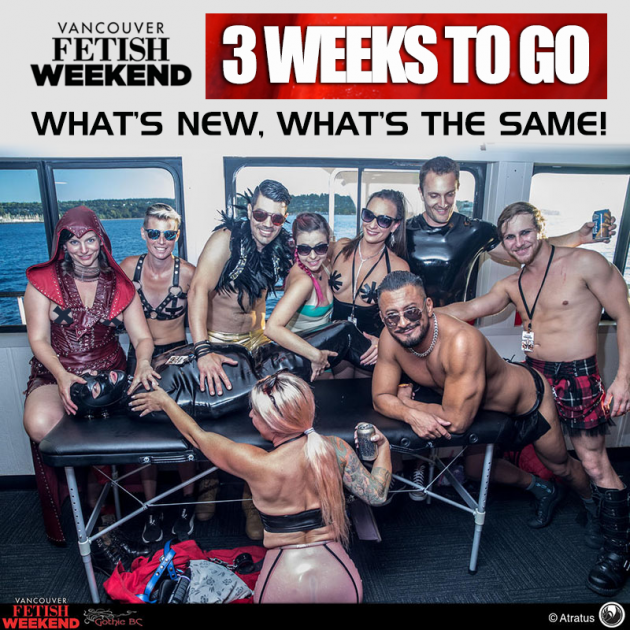 The countdown is on to the launch of VANCOUVER FETISH WEEKEND 2022, where locals and kinky travellers from around the world descend on our beautiful city for a fun-filled five days and nights of pervy partying and sexy socializing, where old friends re-connect, and new friends are made! Newbies, lifestylers, all gender identities and sexual preferences from across the rainbow spectrum, cross-dressers, rubberists, long time regulars and first timers are all most welcome!
As VFW roars back to life after a long hiatus through the pandemic, it's also time for a quick recap of what's the same as past years, and what's new for this year! Read on for all the dirt!
If you haven't gotten your tickets yet – now's the time! The Fetish Cruise is now over TWO-THIRDS SOLD OUT with only about 75 tickets left! Weekend passes and individual day tickets are all available online at the link below :
---
WHAT'S THE SAME?
All the major events and biggest venues are all in the same places, with the exception of the main event on Saturday, which is at a huge & exciting new venue … quite literally the biggest indoor club venue in the city!
Thursday's Meet & Greet party will once again be held at NUMBERS CABARET in the heart of the West End gay district of Vancouver, a short walk of a few blocks from the host hotel. This party is once again free, casual and no dress code (though many people dress up anyway!) and is open to everyone from the festival but also everyone who might want to come by and hang out in general!
The Friday venue is once again at THE IMPERIAL, a historic and gorgeous renovated Chinese theatre turned into one of our favourite special events venue, transformed from top to bottom into our pervy playground. One note here is that this block of the city has been slated for redevelopment in early 2023, and this is the LAST YEAR we will have this venue for Vancouver Fetish Weekend before it joins the long list of venues that the city has loved and lost.
Saturday day there is a short daytime walk for group fetish photos, leaving from the host hotel, with a fetish community pub & brunch meetup at THE JUNCTION on Davie Street at 3 PM.
The Sunday Cruise is on the MAGIC SPIRIT yacht, with 300-400+ expected, with the afterparty once again returning to the intimate and legendary PENTHOUSE strip club!
The Cruise will once again board at 1601 Bayshore Drive, the newer of the boarding locations, for those who have been with us for several years. Once you get close, there will be signs helping direct you, but it is easy to find!
Monday it's time for a group trip to the stunning WRECK BEACH, with complimentary shuttles for weekend pass holders leaving from the host hotel several times during the day! We had almost 200 people from around the world at the beach gathering at the last VFW before the hiatus, with a huge contingent set to assemble in the sun and on the sand once again this year.
---
WHAT'S DIFFERENT?
Some things changed behind the scenes – some of our host venues were sold to new owners, with whom we had to re-establish new agreements. It took an unbelievable amount of work to bring all the pieces together, but of course it will be all worth it once everything comes together and we get to congregate with all our fetish friends from all over the world in these special spaces!
Friday's theme this year is LUST IN SPACE / SCIENCE FICTION / CYBER! Fetish outfits following the theme are highly encouraged – glow in the dark, light-up, metallic, robots, aliens, androids, mutants, astronauts, space fleet, cyber-industrial, retro & campy, ultra modern or futuristic, there are a huge amount of ways this theme can be interpreted! The theme is of course always a fun BONUS ONLY and everyone is fully welcome to dress in whatever kinky attire they wish, themed or not!
We have a HUGE roster of talent and incredible performers coming to the stage this year, but another change is that this is the first time we are featuring two out of town designers for full scale fashion shows. We are BEYOND excited to have JANE DOE LATEX and BLACKLICKORISH LATEX, both from Los Angeles, teaming up with 25+ local and international models to showcase their stunning designs in an over-the-top main event runway show.
Another big change from years past is that some of our local headliners turned into international superstars! If you live in Vancouver, you of course know THE BRATPACK from their long-running weekly drag shows at the Junction in the West End, and beyond. Now while they have been performing at VFW the last few years, a little thing happened since we last had them hit our stage. And that little thing was that not one, not two, but three Bratpack members made it onto Canada's Drag Race, where they reached a global audience, levelled up their game 1000x, and legitimately become known all over the world!
We are THRILLED to be welcoming back KENDALL GENDER, SYNTHIA KISS and GIA METRIC, and can't wait to see what they have cooked up for us!
And lastly, the most exciting news of all, is that we are bringing the main Saturday night event of VFW2022 to the HARBOUR EVENT & CONVENTION CENTER, which is not just a new venue, but is the largest indoor club venue in the city, boasting a 30 foot wide stage, an 80 foot wide custom visuals installation, and state of the art lighting and sound. Audiophiles, there's a 10,000W Pk Sound System coming your way! Add to this all the play area installations and special spaces that we are curating, and we are truly bringing VFW onto the international stage in a way like never before.
If you have been to either of the last two Vancouver Fetish Weekends, the Saturday venue is in the same plaza as in the past, just at the venue next door … which used to be the Edgewater Casino, and now is a massive entertainment venue!
This venue also has VIP booths which seat groups up to 12 – if you are interested in booking one for the main Saturday night event, drop an email to :
Tables@harbourconventioncentre.com
---
WE HIGHLY ENCOURAGE EVERYONE TO SIGN UP FOR THE VFW NEWSLETTER!
Every day of the festival we send out an itinerary of the day's activities at noon, with addresses and maps, so the information is right at your fingertips. Social media platforms such as Facebook are becoming increasingly unreliable as they crack down on 'sexy content' and there is always the chance our event listings, posts and Pages may be unexpectedly deleted or had their visibility reduced. You can always unsubscribe from the Newsletter any time!