VFW : POSTPONED TO 2021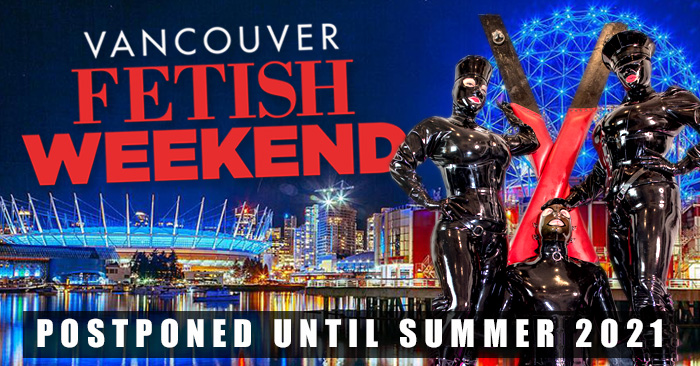 (Photo : Zemekiss / Models : MsSinstress, PrettyFilthy & Sinful Vainglory)
In solidarity with the global response to help contain and overcome the Corona Virus pandemic, it is with great sadness that we announce the postponement of Vancouver Fetish Weekend to the summer of 2021. While our beautiful city of Vancouver, British Columbia and Canada in general has been faring fairly well as compared to many other countries which are suffering far longer timelines in getting things under control within their borders, it is very clear that at this point, large in-person gatherings will not be possible before the end of summer, and air travel will not return to normal for quite some time.
While we recognize that the understanding of the virus and disease outbreak at the heart of the pandemic is evolving, with new information and projected timelines coming out daily, we do not want to reschedule based on hopeful guesses, only to have people have to juggle and re-juggle plans multiple times. We will not be announcing any ticket sales or fully confirmed rescheduled dates until a completely solid all clear has been given by all relevant health authorities, so that once ticket sales do start up for the rescheduled dates, all our guests can be one hundred percent confident in making plans to take part.
Obviously this was a very difficult decision to make! While we love and miss all our local and international friends, and our extended family from the worldwide fetish community, we also place their safety and well being as a prime directive in our work, building gathering spaces for all of us to come together, in an inspirational and accepting environment, and express our kinks, sexual and cultural identities.
Our parent group, Restricted Entertainment, has deep connections with our local venues, built from working closely with them continuously for almost 25 years delivering events to the local Vancouver counter-culture subcultures, and once it is legitimately safe to do so, rest assured we will be starting up our monthly Sin City Fetish Night at the first opportunity.
While there is a slim possibility we will be able to have events of some kind before the year is out, and an even slimmer possibility that events of some kind may be possible before the end of summer, even if so, these would be much smaller in scope, and for the most part, the international community would not be able to take part. Vancouver Fetish Weekend is, at its heart, a summer fetish festival, mixing our fantastic local fetish scene with the international community, and we just wouldn't feel right if it was presented in any other way. So, VFW will be back even bigger and better next year, and any kink events which potentially become possible before that will be under our the name of our monthly Sin City Fetish Night.
Since it's inception just shy of eight years ago, VFW has exploded onto the international scene, despite being on the opposite side of the continent and the farthest distance possible from the greatest share of the population spread over in North America, and despite being one of a very few fetish festivals outside of Europe. We have no corporate involvement of any kind, and are entirely a grass roots, self-funded, community-driven event. A huge part of this growth has been directly from the outpouring of goodwill, public and word of mouth recommendations from attendees, artists, designers, performers, DJs, and our many friends who we consider family, from other key events and festivals, such as Fetish Factory in Florida, Cirque Du Boudoir in Montreal, German Fetish Ball in Berlin, and many more. We cannot thank everyone enough thus far for their support, and for their personal involvement in helping us build our corner of the international community, whether it was from attending on many years in person, or just shouting us out on social media!
We will need your support and your voices helping us amplify our invitations to participate more than ever in the upcoming year, when the time comes!
While we lament not being able to see many of our friends from far-off places in the flesh this year, we also know this is going to make next year just that much more crazy. Adding to this, we will ALSO be celebrating the 20 Year Anniversary of our monthly Sin City Fetish Night in May, which will itself be one of the biggest single-day events to ever hit Vancouver!
---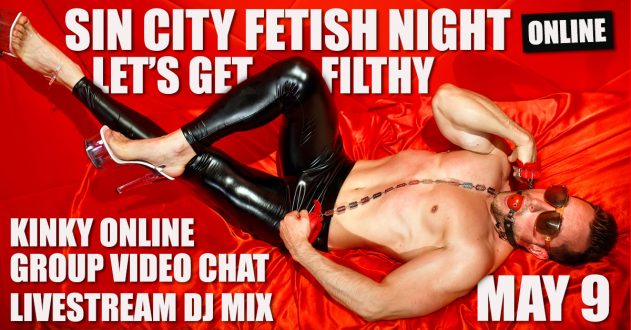 JOIN OUR MONTHLY VIRTUAL FETISH PARTIES ONLINE!
In the meantime – we have started hosting monthly ONLINE kink parties! Our first one last month was a smash success and tons of fun, with many kinksters from all around the world taking part! Essentially it's a three part party! Our DJs put out a livestream music mix, which people can listen to at home, where everyone can enjoy a fetish-dancefloor mix of music, all at the same time, as a shared experience. People can also join in the text chat in the DJ livestream, providing further direct connection for anyone, anywhere, who wants to join. We ALSO host a private video fetish party – the link and password to join is sent out to everyone who has signed up to the Sin City / VFW Newsletter. The chat is video and there is a fetish dress code, anyone not in kink attire of some kind is booted. The audio is off and everyone can group chat via text/typing. Having a video connection with everyone provides the strongest social interaction and connection of all!
Our next virtual party is on Saturday May 9, which is also the 19 Year Anniversary of Sin City!
RSVP on FACEBOOK / RSVP on FETLIFE
---
If you have any further questions, please email VFW organizer Isaac T directly at :
---
WE CAN'T WAIT TO SEE YOU AGAIN, IN THE GLORIOUS FLESH! BUT UNTIL IT'S SAFE TO DO SO, TAKE CARE OF YOURSELVES, WASH YOUR HANDS, AND STAY KINKY!