NOV 14 – ONLINE MILITARY & UNIFORM KINK PARTY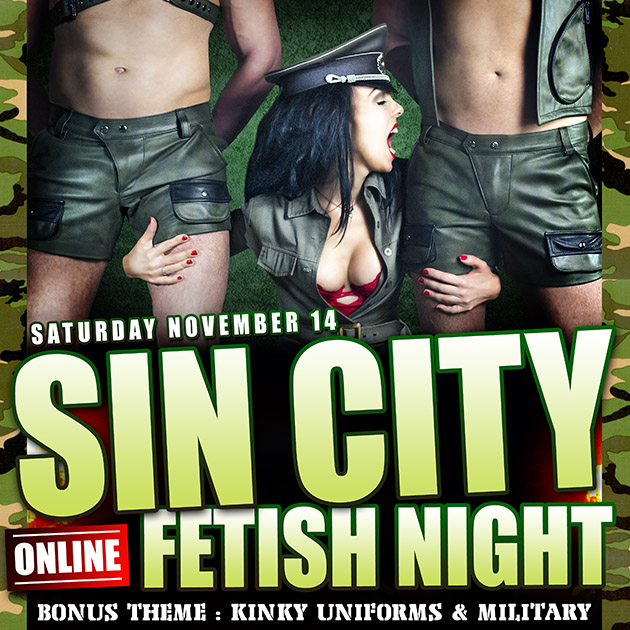 Our next online kink party will be on Saturday November 14, with a bonus theme of KINKY UNIFORMS & MILITARY! For those who wish to dress up, all fetish / sexy / risque outfits are welcome, but for those who like being part of a group theme, we encourage you to take the opportunity to dress up in your best kinky uniforms or military styled gear!
FACEBOOK EVENT LISTING / LAUNCH the MUSIC LIVESTREAM
Once again we are teaming up with our friends in Montreal from Cirque De Boudoir to bring you an online party connecting the Vancouver and Montreal fetish scenes, along with the greater international community worldwide! As well, DJ Kasey Riot will be hosting the official online afterparty! Read on for more details.
GET THE ZOOM PARTY PASSWORD / ENTER the VIP ZOOM PARTY
The main thing you need to know right off the bat is we have a FREE livestream music & chat party on Twitch, and we also have a VIP kinky group video party as well! The VIP group video party is fetish attire / kinky costume mandatory and requires 1 ticket of CDN$10 minimum per household to join.
Read on for more details!
---
VIDEO PARTY & MUSIC LIVESTREAM LINKS ARE PLACEHOLDERS AND DO NOT BECOME ACTIVE UNTIL DAY OF THE PARTY. CLICKING ON THEM PRIOR TO DAY OF THE NEXT PARTY MAY RE-DIRECT YOU TO AN OUTDATED LINK, OR RE-DIRECT YOU TO A MUSIC BROADCAST FROM ANOTHER STREAMER WE ARE HOSTING.
---
IF YOU BUY YOUR TICKET IN ADVANCE : on the day of the party, an email will be sent to you at 6 PM (Vancouver PDT time zone), when the pre-party with Cirque De Boudoir starts, and the Zoom party opens, and again at 9 PM, when the main Sin City party begins!
IF YOU BUY YOUR TICKET AFTER 6 PM ON THE DAY OF THE PARTY : an email will be sent to you immediately with the link and password to join!
IF YOU CAN'T FIND THE CONFIRMATION EMAIL : look in your spam / trash / junk folder for an email from Eventbrite, as sometimes they end up there, if you are buying a ticket for the first time!
PLEASE NOTE! The VIP Zoom party is Fetish / Kinky Costume attire MANDATORY … even with a purchased ticket! Make sure to be changed prior to entry into the party – anyone showing up in plainclothes will be booted! We love everyone, but this is to preserve the atmosphere of comfort for everyone to fully unleash their kinky creativity and sexual self-expression!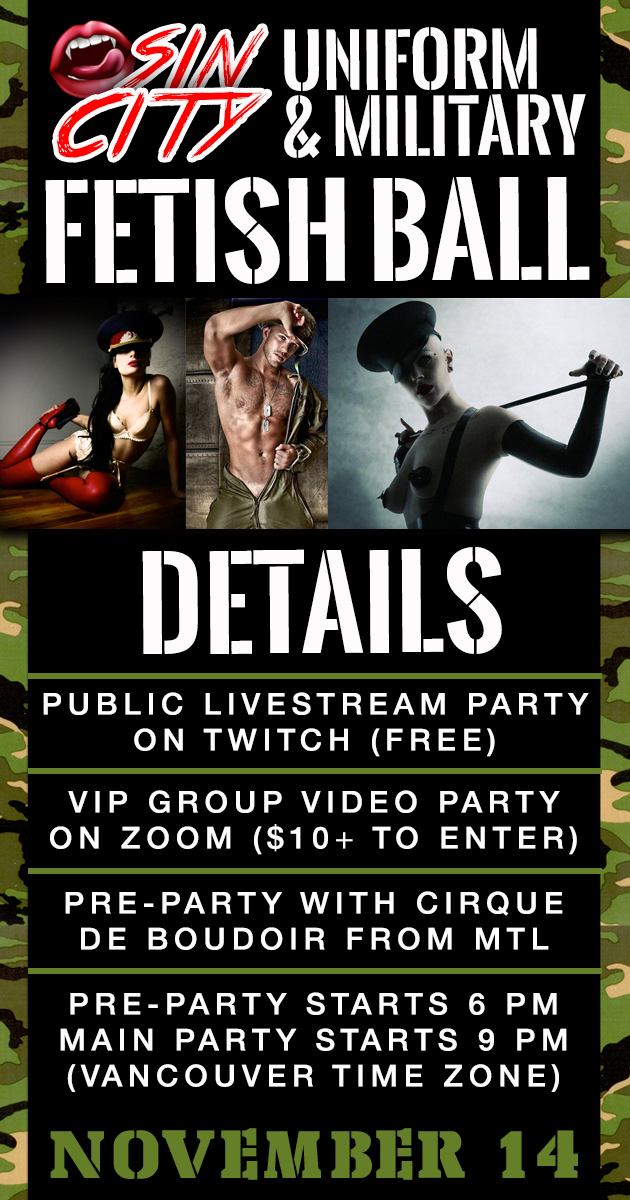 Normally in real life this is a big party in the flesh with several hundred people, but in this crazy pandemic world, we have a party of 4 people at Restricted Entertainment HQ, including our core Sin City Fetish Night DJs switching off throughout the night, also along with cocktail and go go hosts for added entertainment, connecting our party to yours, and other living rooms, kitchens and bedrooms all over the world!
DJs :
– Pandemonium
– Evilyn13
GO GO & COCKTAIL HOSTS :
– Rheanna Fancypants
– Bluntengel666
---
WE'RE TEAMING UP WITH Cirque De Boudoir, WHO ARE HOSTING THE PRE-PARTY!
Want to start partying even earlier? We're teaming up with our friends from Montreal, for one massive party connecting both cities! The video group party connecting both parties is all rolled into one! The Zoom party actually starts at 6 PM Vancouver time, which is 9 PM Montreal time! DJs David and Bunnyguts will be playing on Twitch as well at that time, until the Sin City DJs start later, at which point there will be two rooms to choose from for a couple hours, just like a big club night with two rooms to choose from! At a certain point the Cirque De Boudoir DJ livestream will merge with the Sin City one as well, and the Sin Crew takes us home to 4 AM!
WANT TO KEEP PARTYING PAST 4 AM?
DJ Kasey Riot will be hosting the official afterparty on her Twitch channel! Just stay in the main party, and we will bring everyone over there with us!
---
(PRIVATE) GROUP VIDEO CHAT – VIRTUAL ZOOM ROOM CLUB PARTY
Join us along with anywhere from a handful to up to 100 friends from the local and international kink communities in a virtual fetish hangout! The link to join the video chat room will be posted here, in the event and on the livestream. Here's the details …
1. YOU WILL NEED THE PASSWORD, which will be mailed out once you buy a ticket!
2. FETISH DRESS CODE IN EFFECT! Anyone joining in plainclothes will be booted – this is both to really encourage people to get dressed up for the party, and to deter looky-loos!
3. NO AUDIO – TEXT CHAT ONLY. Microphones are turned off and interaction is by group text chat and it is super fun! You can chat with the group as a whole, or directly with individual people. Make sure to introduce yourself when you join!
4. CAMERAS MUST BE ON, so you can see all your friends and show your sexy selves off! The name of the game is to take the opportunity to dress up sexy / fetish / risque / scandalous in some way! No hanging out and watching with your camera off – you will be bounced!
5. NO RECORDING, NO PHOTOS. Do not bring a phone into view of your camera, even if just texting. No exceptions. Don't wreck the vibe!
6. BE RESPECTFUL – POOR BEHAVIOUR WILL NOT BE TOLERATED. Posting aggressive or disrespectful comments in the chat will get you booted, no warnings.
7. NO SOLO WANKING ON CAMERA, or you will get booted! Watching by yourself + wanking = creepy. Got a partner with you? That's a different story – by all means, if so, get as filthy as you like! Or, just move your solo-play off camera …
8. KEEP YOUR JUNK COVERED! Dress as sexy or bare as you dare, but if your g-string area is going to be on-screen, keep it covered!
9. PLAYING WITH A PARTNER TOTALLY OK! Our video parties are a sex-positive space! If you want to play with a partner on screen, full nudity and sex on camera is fine!
10. OBEY THE MODERATORS AND PARTY HOSTS!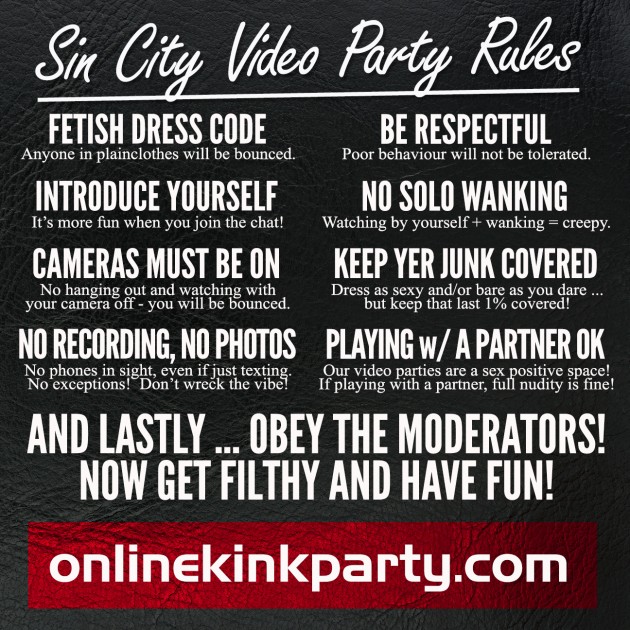 ---
THAT'S IT! NOW LET'S GET FILTHY AND HAVE SOME FUN!