Cruise Details For Today – Leaves At 6 PM SHARP!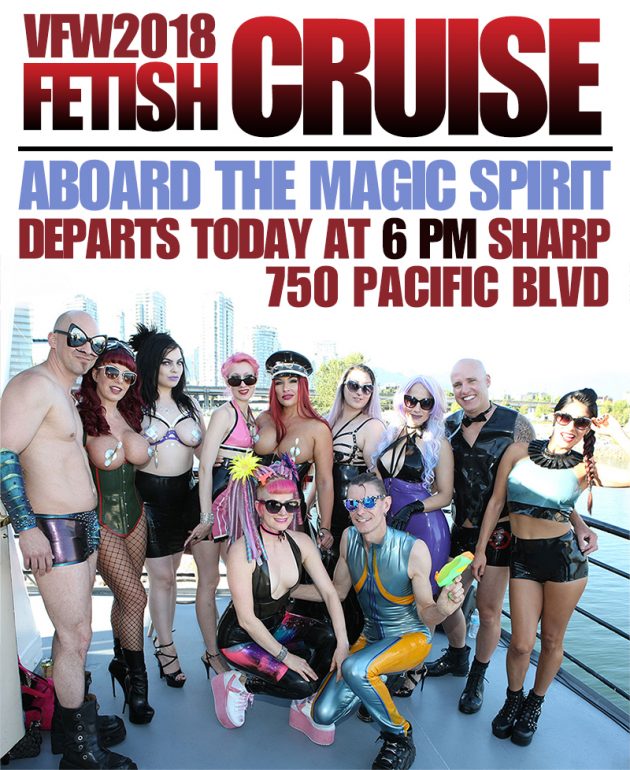 Boat name : Magic Spirit
Boards at : 750 Pacific Blvd. If you are standing in front of the venue where the Saturday night main party was, turn left and walk straight forward. Ahead of you, just over the bike path, is the entrance to the marina and dock.
Boarding begins : 5 PM
Ship leaves : 6 PM SHARP, no exceptions!
Ship docks : 9 PM
Limo bus shuttles will be waiting upon docking to bring you to the Grand Finale Bondage Ball at the Penthouse Strip Club, at 1019 Seymour St.
It's 30 degrees outside and Vancouver has rolled out the most beautiful day we've ever had for the VIP Fetish Cruise in the history of Vancouver Fetish Weekend! Congratulations to everyone who bought a VIP Weekend + Cruise pass before it sold out – we are in for a sinfully delicious treat! This event is the jewel in the crown of our annual gathering of international and local kinksters, and as far as we know, is the biggest fetish dress code cruise of its kind in North America!
PARKING – there are several large parking lots next to the Marina, which are shared with the nearby casino. While there is lots of parking here, it can be expensive, but it is definitely the most convenient option. Or, find parking on Pacific Blvd nearby. Another option are the dozen or so parking spaces in the taxi loop at the Plaza Of Nations.
DO NOT BE LATE – The ship sails at 6 PM sharp, no exceptions, no refunds. If you are not parked by 5:45 PM and walking to the boat, you will very likely not make it on time. Every year the boat pulls away and a handful of disappointed kinksters rush up to the gate and sadly wave goodbye, having missed boarding by minutes. Don't let this be you!!
HEAT WARNING – It is going to be a HOT one and while there are many fun ways to abuse your body, being dehydrated is not one of them! Please make sure to drink lots of water, and bring a hat, hand fan, umbrella, or other precautions, if you are sensitive to heat!
ATTIRE & KINK PLAY – There is a fetish dress code in place – anyone without an appropriate sexy / risque / fetish / kinky / pervy outfit will not be permitted entry. While we encourage people to be as bare as you dare, a g-string minimum must be worn at all times, with no exposed lower genitals. While there is PLENTY of naughty fun and play to be had, no direct sex acts or genital touching is permitted on board.
FETISH DRESS CODE
DJs & DANCING w/ EVILYN13 & KASEY RIOT
OPEN AIR TOP DECK ROPE PLAY AREA & DANCE POLE
FULL MID-LEVEL PLAY DUNGEON
CHILLOUT LOWER DECK LEVEL
PHOTOS – there is no personal photography allowed on the cruise. Roving staff photographers will be on site, as well as a drone capturing video once we hit the halfway point of the cruise. All video and photos are thoroughly screened before release. We know that the majority of our attendees are beautiful & sexy creatures who love getting their photos taken and trust our staff, but if the presence of cameras is an issue for you, please speak with a staff photographer and they will make sure to keep you out of any photos taken. We want you to be comfortable and have a great time unwinding and getting kinky out on the water!
NO TOUCHING WITHOUT PERMISSION – full stop, this is rule #1. Regardless if you see some gorgeous half naked people getting kinky together, this is not an invitation to join in without explicit verbal permission. Do not assume! Non-consensual touching or activity of any kind will not be tolerated.
RESPECT THE BOAT AND STAFF AT ALL TIMES – the staff and management of the Magic Spirit go out of their way to accommodate our gathering every year and in return we expect our community to give the utmost respect and appreciation back! Please be courteous and tip well 😉