VFW 2020 – ONLINE PARTIES – JULY 24/25/26
Blue catsuit image courtesy of : Killer Heels Photography / Model : Witchy Pixie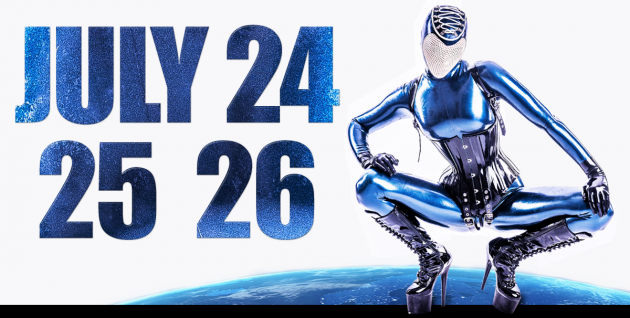 MAKE A DONATION / WATCH THE MUSIC LIVESTREAM
While this three-day is otherwise FREE, tips and donations big and small are most welcome, and go a long way to helping VFW survive until in-person events are possible again! We incur expenses every day & month, and every $ helps!
FACEBOOK EVENT LISTING / FETLIFE EVENT LISTING
---

JOIN THE PRIVATE GROUP VIDEO PARTY
The link to join the video party will be posted right here day of the events! PLEASE NOTE – to join, you will need a password, which you get as an email from the Newsletter, so please make sure you are signed up before then! You can unsubscribe at any time. Password emails are sent approximately 15 minutes before the parties start each day. The Friday and Saturday Video parties start at 9 PM, the Sunday video party starts at 3 PM. If you didn't sign up and missed the email, you can still sign up after the fact, and a welcome email with the password will be automatically sent to you! If you think you should have gotten the email for it by now and can't find it, check your junk/trash folder! It's always possible your spam settings deleted the email before you had a chance to see it!
---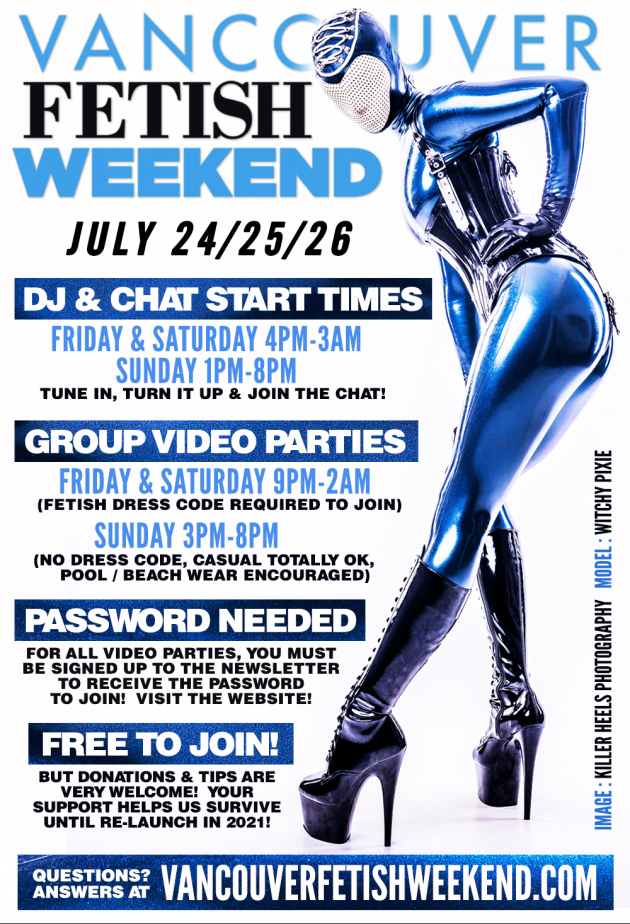 15+ DJs Representing 10+ Cities
25+ Hours Of Music For Your Fetish Parties
Public Livestream Music & Chat
Private Fetish-Attire-Mandatory Kinky Group Video Parties & More!
That's right, baby! You know we wouldn't leave you hanging! While the full scale in-person event has been pushed to next summer, for THIS year, during the weekend where VFW would have taken place, we have organized a massive ONLINE fetish festival!
LGBTQ+ / gay / straight / drag / cross-dress / singles / newbies / lifestylers / rubberists / all body shapes, sizes and colours / all age groups 18-65+ (no minors!) / all sexual preferences and gender identities most welcome!
Our goal is to harness that energy and interest in Vancouver Fetish Weekend, and use the occasion to help connect our fetish community and provide some much-needed sexy social release!
Take the opportunity to dress up and join the private fetish group video parties, or just listen in to the public livestreams and dance to our DJs! And of course text chat with your fetish friends from all over the world!
Organized with pride by Vancouver Fetish Weekend, with the help of many friends from Montreal, New York, Edmonton, Los Angeles, Fort Lauderdale, Denver, Seattle and Dallas!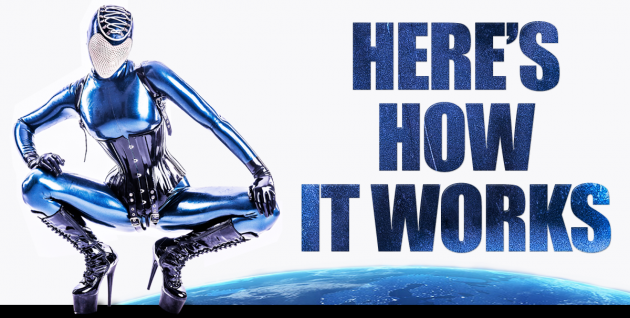 We highly encourage people to have smaller gatherings at their place – following safety guidelines of course – take the opportunity to get done up PROPER in fetish attire – and tune into to our online events for a shared fetish party vibe connecting everyone all over the world!
Each night, we will beam a livestream DJ party directly to you, wherever you are! This part of the party is public and open to anyone! No need to dress up if you don't want to! You can totally just tune into the livestream, make us your radio station for the weekend, and join in the public chat there!
The livestream chat and DJ mixes will be broadcast on our Twitch channel here : https://www.twitch.tv/restrictedentertainment
Each day we will ALSO have a 5+ hour private OFFLINE group video party, fetish attire mandatory, sex-positive, where people can indulge all the shenanigans which would otherwise be inappropriate on Facebook or Twitch! The password and link to join will be emailed out via the Newsletter! Just make sure you are signed up ahead of time, and all you'll have to do is wait for the emails to come in, and you'll have everything you need to join!
Friday & Saturday video parties are fetish attire mandatory, Sunday is no dress code, casual attire OK!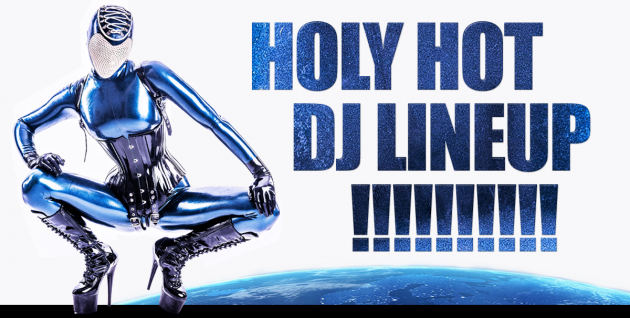 Featuring an all-star lineup of DJs from alternative and fetish clubs across North America, including :
PANDEMONIUM … (VFW / Sin City, Vancouver)
EVILYN13 … (VFW, Sin City, Vancouver)
R-LEX … (VFW / Sin City, Vancouver)
KASEY RIOT … (VFW / Sin City, Vancouver)
KC KILLJOY … (Fetish Factory, Fort Lauderdale)
LINDERSMASH … (Stache, Fort Lauderdale)
XRIS SMACK! … (Stimulate / SMack! / New York)
BABY MAGICK … (Jolene, Gloss, Jump Program, Los Angeles)
JOE VIRUS … (Dallas Fetish Ball)
SIBORG … (Subspace, Edmonton)
BUNNYGUTS & DAVIDE … (Cirque Du Boudoir, Montreal)
JQ … (The Mercury, Seattle)
SLAVE1 … (Deviant / Disintegration, Denver)
DARK WANDERER … (InsertScaryNameHere / Nurnberg / Germany)
Friday Music Theme : Dark Alternative
Saturday Music Theme : Full-On Fetish Club
Sunday Theme : Freaky Beach & Pool Party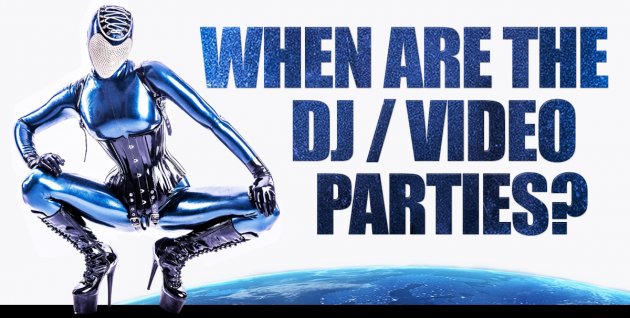 The PUBLIC DJ mix livestream + chat party runs :
FRIDAY : 4pm-3am
SATURDAY : 4pm-3am
SUNDAY : 1pm-8pm
The PRIVATE Zoom group video parties run :
FRIDAY & SATURDAY : 9pm-2am
SUNDAY : 3pm-8pm
PLEASE NOTE – THESE TIMES ARE ALL VANCOUVER / LOS ANGELES / PACIFIC PDT TIME ZONE!
---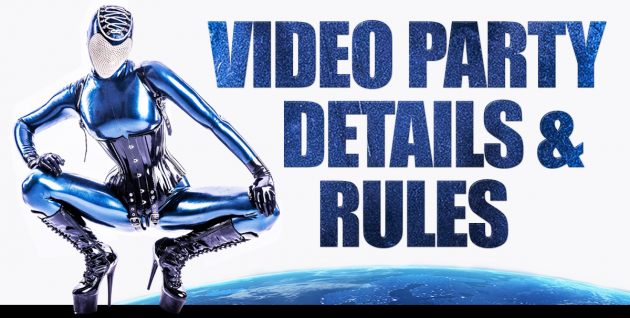 Join us along with anywhere from a handful to up to 100 friends from the local and international kink communities in a virtual fetish hangout. Here's the details …
1. ANYONE CAN JOIN BUT YOU WILL NEED THE PASSWORD, which will be mailed out via the Sin City / Vancouver Fetish Weekend newsletter! Make sure you are signed up to it ahead of time at : www.sincityfetishnight.com
2. FETISH DRESS CODE IN EFFECT! Anyone joining in plainclothes will be booted – this is both to really encourage people to get dressed up for the party, and to deter looky-loos!
3. NO AUDIO – TEXT CHAT ONLY. Microphones are turned off and interaction is by group text chat and it is super fun! You can chat with the group as a whole, or directly with individual people. Make sure to introduce yourself when you join!
4. CAMERAS MUST BE ON, so you can see all your friends and show your sexy selves off! The name of the game is to take the opportunity to dress up sexy / fetish / risque / scandalous in some way! No hanging out and watching with your camera off – you will be bounced!
5. NO RECORDING, NO PHOTOS. Do not bring a phone into view of your camera, even if just texting. No exceptions. Don't wreck the vibe!
6. BE RESPECTFUL – POOR BEHAVIOUR WILL NOT BE TOLERATED. Posting aggressive or disrespectful comments in the chat will get you booted, no warnings.
7. NO SOLO WANKING ON CAMERA, or you will get booted! Watching by yourself + wanking = creepy. Got a partner with you? That's a different story – by all means, if so, get as filthy as you like! Or, just move your solo-play off camera …
8. KEEP YOUR JUNK COVERED! Dress as sexy or bare as you dare, but if your g-string area is going to be on-screen, keep it covered!
9. PLAYING WITH A PARTNER TOTALLY OK! Our video parties are a sex-positive space! If you want to play with a partner on screen, full nudity and sex on camera is fine!
10. OBEY THE MODERATORS AND PARTY HOSTS!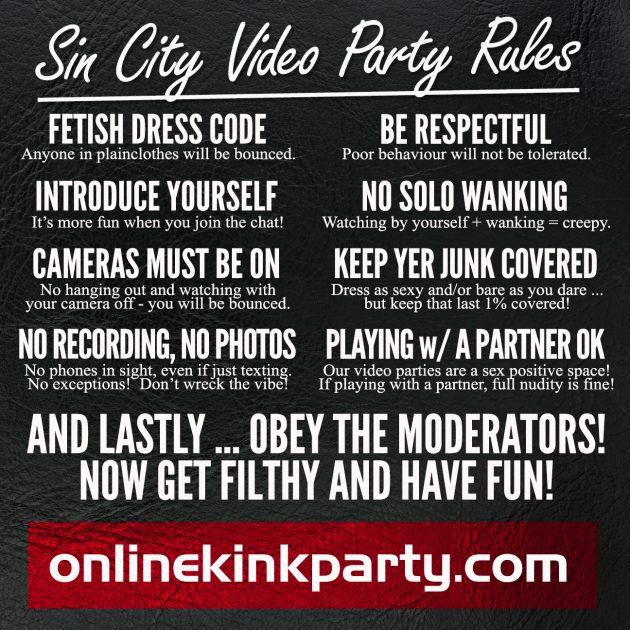 All aspects of all of the events are FREE to enjoy, but we welcome any donations or tips you can forward, which go to the organizers and DJs putting their time into making this gathering space happen!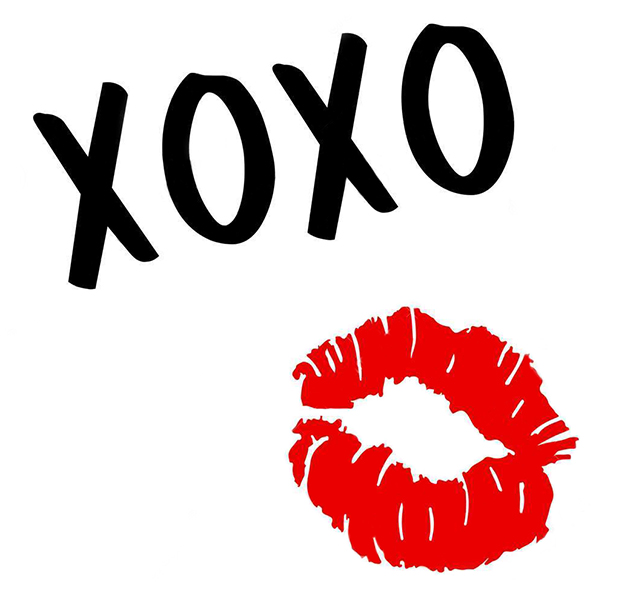 THAT'S IT! NOW LET'S GET FILTHY AND HAVE SOME FUN!