2023 Performer Lineup
MARIE DEVILREUX … (Brazil / UK)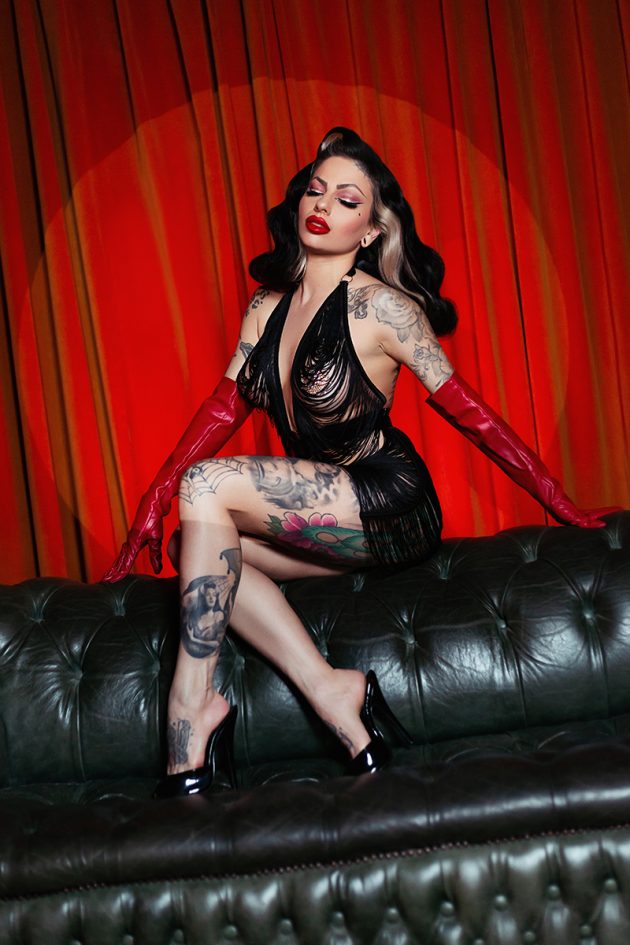 Marie Devilreux is the epitome of Exotic Brazilian Goddess meets Classic vintage beauty meets horror movie starlet. Her unique style, dazzling vintage inspired costumes, elegance, and beautiful performances, always with a dash of danger, leaves her audience aroused and spellbound wherever she goes, which has given her recently the title of one of the most influential names in the 21st century Latina Showgirl legacy, according to Remezcla.
Her performance specialities include Classic Burlesque, Fire, Fire Tassel Twirling, Aerial, Fetish/Erotica oriented shows, Latin and Horror themes.
Brazilian born, but London based, she is a travelling Show Girl having performed in numerous countries around the globe such as U.K., USA, Germany, France, Italy, Switzerland, Singapore, Thailand, Czech Republic, Austria, Brazil, Portugal, Spain, Sweden, Belgium, The Netherlands and more.
She has held multiple residencies throughout the last 10 years, and performed alongside/shared bill Burlesque personalities/legends, dancers and musicians and worked for big names on Burlesque, Variety, Dinner shows, Fetish parties, Tattoo conventions and Rockabilly Carshows globally, such as Torture Garden, Proud Cabaret, Cream Group, Beauty Of Burlesque, Royal Burlesque Revue, Hubba Hubba Revue, Oh lala Cherie, Samigos Amusement, Home of Burlesque, London Tattoo Convention, Muse, Viva Las Vegas, Performer Nation, Cabaret da Cecilia, Lucha Vavoom, Babes and Blues Las Vegas to name a few. Her clients include Breitling Watches, Perrier-Jouet, Netflix, Fox, Oligarch Rashid Sardarov (alongside Crazy Horse and Robbie Williams!) , Working class publishers, Adele Mildred, Claptone and more!
Marie also holds a successful career as a Model, having worked for numerous brands, such as Playful Promises/Bettie Page lingerie and outstanding photographers, such as Neil Kendall and Ellen Von Unwerth. She also has graced different magazine covers, articles and spreads on her Powerhouse Creative career. She holds a solid career and influence in the Fetish industry as Fetish/Latex Model and Designer. Having also a continuous collaboration with the legendary Torture Garden Latex, designing Classic and Avant Guard Rubber millinery alongside Florence Druart, which has been shown in countless events around the world including the German Fetish Weekend.
Check out her : Instagram
---
VAL VAMPYRE … (Fort Lauderdale)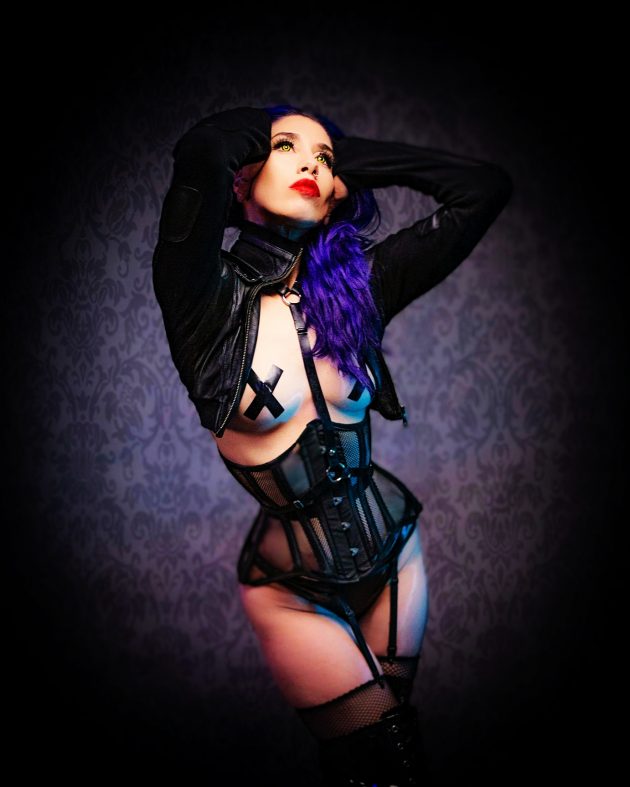 Check out her : Instagram
---
NATASHA NEBULA … (Montreal)
Check out her : Instagram
---
SEATTLE SHIBARI
Seattle Shibari returns to Vancouver Fetish Weekend 2023. Prepare to be dazzled by their impressive performance-based intricate and sensual rope work on the main stage!
See more of their work at their : Facebook Page
---
MELODY MANGLER … (Vancouver)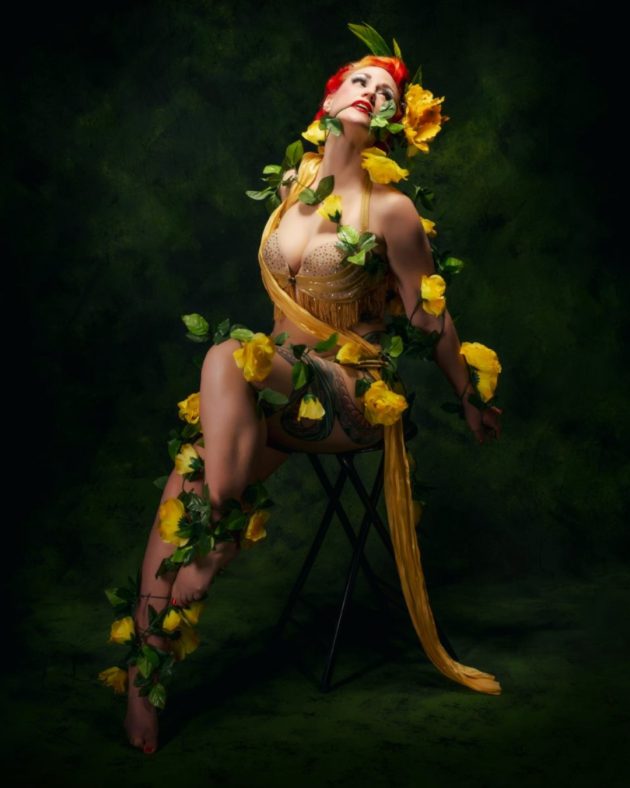 Melody Mangler is an award winning, internationally renowned burlesque performer. She co-founded both the Vancouver International Burlesque Festival as well as Screaming Chicken Theatrical Society and has gotten over 300 women onto the burlesque stage for their first time through her signature two month course Becoming Burlesque. Starting her burlesque career in 2003, she is known as Vancouver's tattooed fireball, and has been a constant competitor at the Burlesque Hall of Fame in Las Vegas winning Best Debut, Best Large Group and Most Comedic. From clowning, to gorelesque to chair acrobatics, you never know what strange world Melody will create for you on the stage.
Check out her : Instagram
---
PAST PERFORMERS …
RUBBERDOLL … (Miami)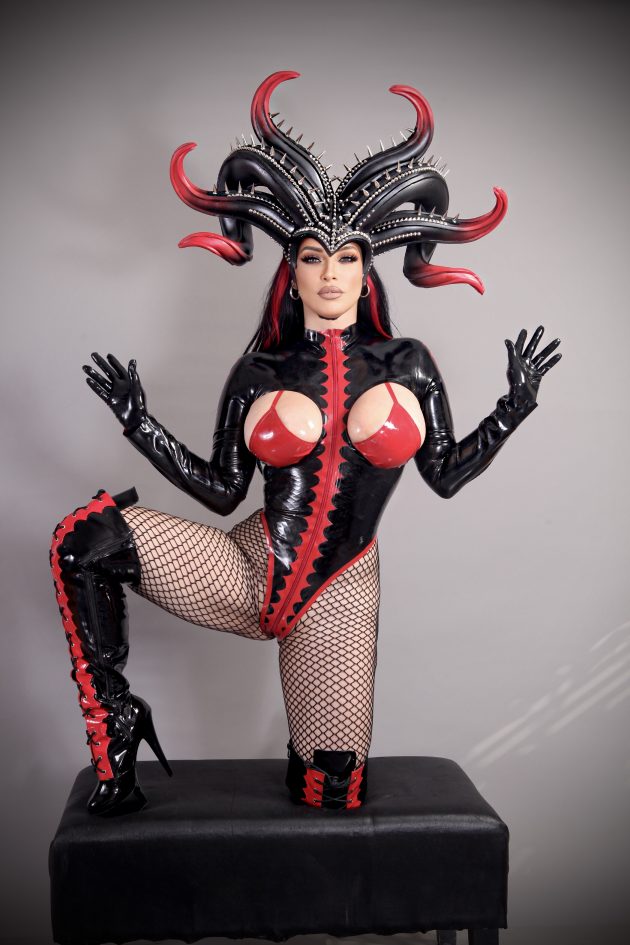 RubberDoll is an internationally known fetish model and elite stage performer with a unique style that combines cutting-edge kink with sultry sex appeal. With a style that combines high-end latex couture with raw sexuality she has become a fixture on the worldwide fetish scene.
RubberDoll has established a reputation as one of the most explosive and sought after live performers on the fetish and adult club circuit. She has performed all across the globe, with appearance at all the top fetish events and gentlement's clubs in the US, Europe and beyond. She has appeared live with German industrial rockers, Rammstein, and she is a staple at adult conventions, such as Exxxotica. On stage, RubberDoll's one-of-a-kind shows are erotically charged and filled with sexy surprises that include extreme fetish outfits, magic tricks, humor, and outrageous visual effects.
Check out Rubberdoll's : Website / Instagram
---
THE BRATPACK … (Vancouver)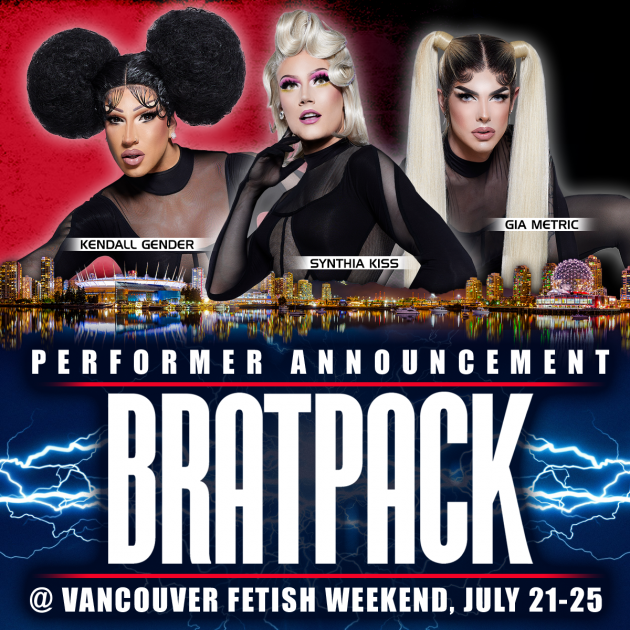 If you live in Vancouver, you of course know the Bratpack from their long-running weekly drag shows at the Junction in the West End, and beyond. Now while they have performed at VFW for several years, a little thing happenedwhere not one, not two, but three Bratpack members made it onto Canada's Next Drag Race, where they reached a global audience, levelled up their game 1000x, and legitimately became international superstars!
Please follow them at their Instagrams, linked below!
Kendall Gender / Synthia Kiss / Gia Metric
---
MIMI CHERRY … (Montreal)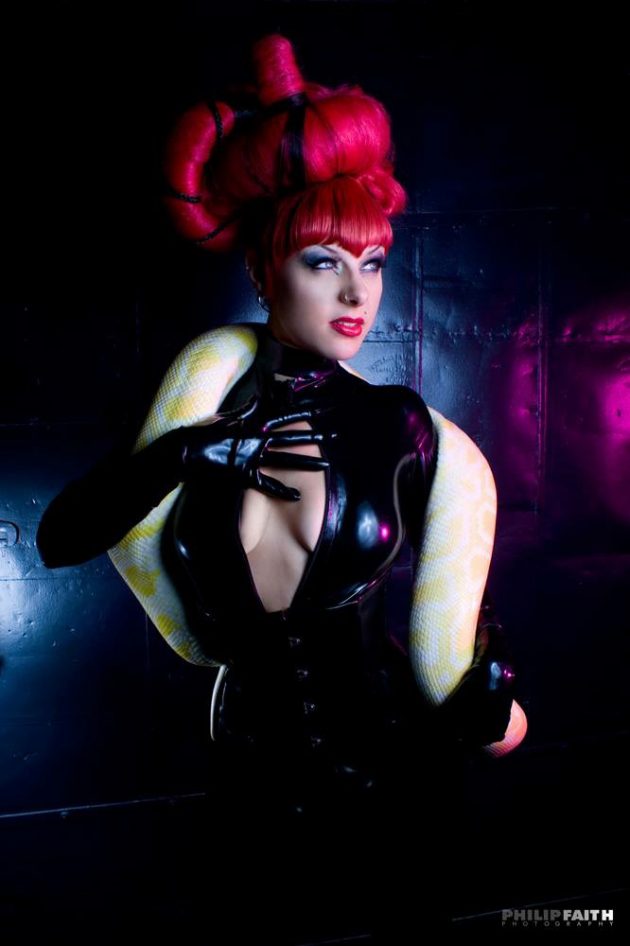 Blending the lines between fetish and burlesque, Mimi Cherry is many things – Goddess, Siren, and most of all, a powerhouse performer with undeniable star power, always delivering a wow factor that makes the entire room stand up and take notice.
Check out Mimi's : Facebook Page / Instagram
---
PERISH … (Los Angeles)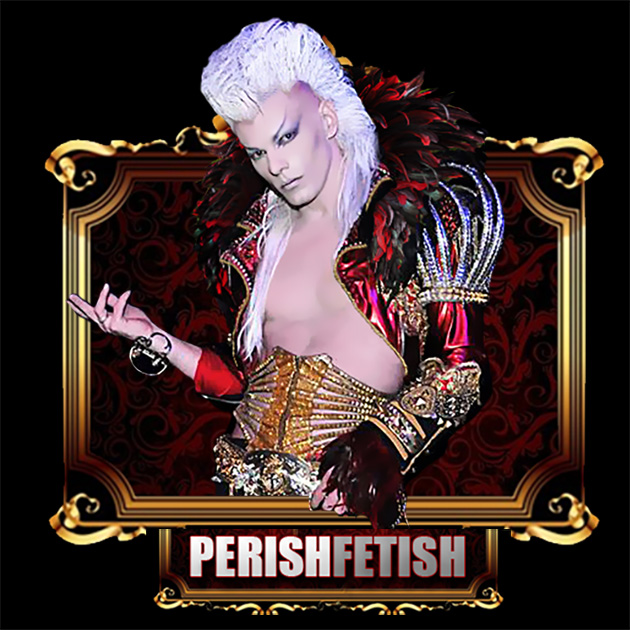 ALL HAIL THE KING OF FETISH, the enigmatic kink chameleon known simply as PERISH from Los Angeles! Perish was our headliner performer way back at the very first Vancouver Fetish Weekend, as well as in 2022. His giant strobing confetti cockshow at the Commodore is the stuff of legend!
Check out Perish's : Facebook Page / Instagram
---
RAVEN … (New York)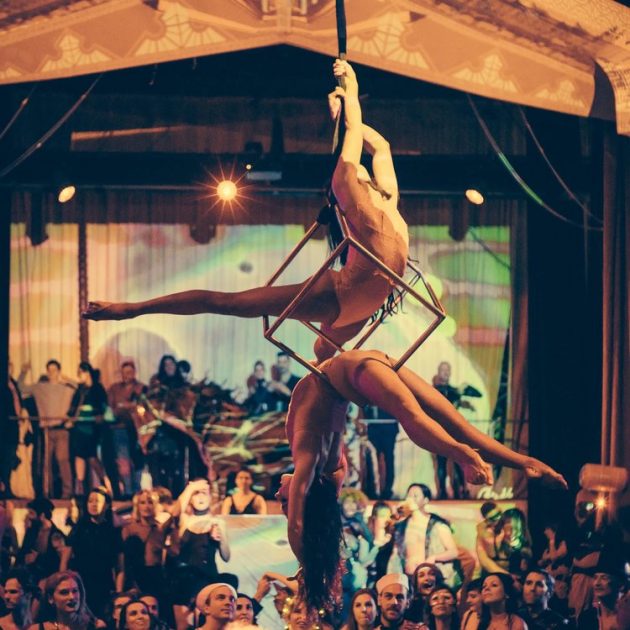 The sensual and powerful aerial duo RAVEN from New York performed at Vancouver Fetish Weekend 2019. Known for their shows at Fetish Factory, Torture Garden and many other high profile stages across North America & Europe, the physicality and theatrics of their performances are positively riveting.
See more of Raven at their : Instagram
---
VINCE VOLTAGE … (Germany)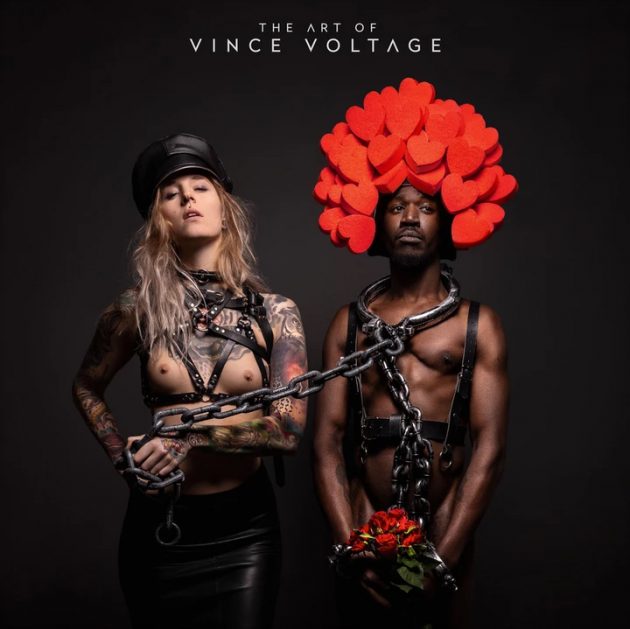 Vince deliberately shocks with his provocative portraits, primarily of people. He brings the dirty side of people's fantasies to daylight, and achieves disturbing effects reminiscent of Robert Mapplethorpe. The impact on the audience is intensified by the strong contrast between the subject and the aesthetics of the image. The photographs look like they were taken from a fashion magazine a la Vogue, while the motifs play with the dark and secret fantasies of the soul. With a keen sense for the right choice of models, and the use of elaborate props and breathtaking image editing, he abducts his audience into crazy worlds replete with eroticism, fantasy, cyberpunk, post-apocalypse, spiritual symbols and the dark abyss of the human soul.
Or check out Vince's website here : www.vincevoltage.com
---
SAMANTHA MACK … (Vancouver)
An avid sex-positive culture advocate, adult video performer and producer, and go-to Vancouver spokeswoman, Sam's sassy, fun and educated take on sexuality is one of the many reasons we all love her!
Find more of Sam at her : Twitter
---
JENNIFER LITTLE … (Vancouver)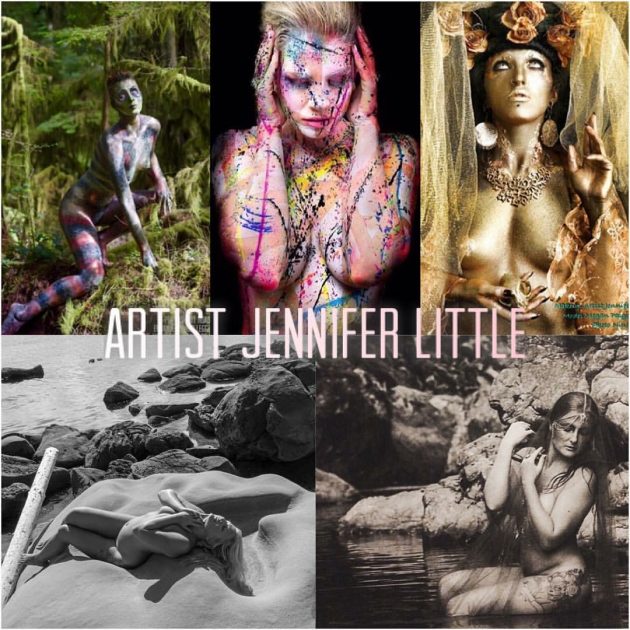 Her work is astounding – check out more of it at her Facebook Page
---