May 30/31 | PLANET PERV – Online Fetish Festival
WATCH THE DJ SETS / MAKE A DONATION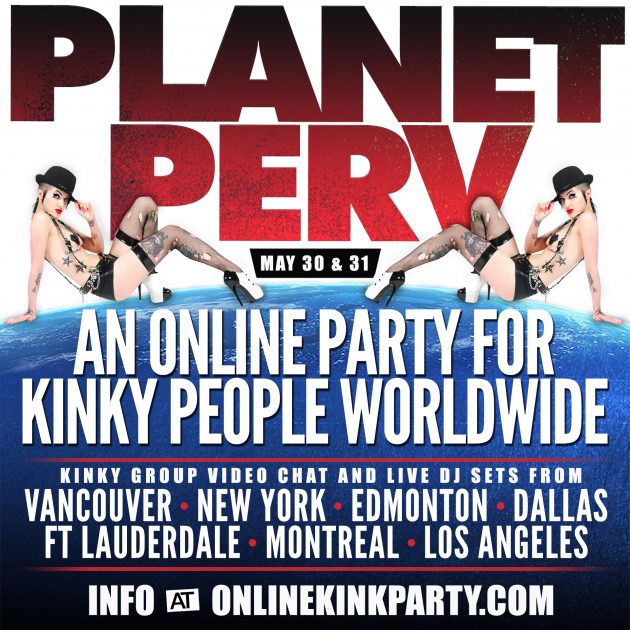 ---
RSVP on FACEBOOK / RSVP on FETLIFE / SUPPORT WITH A $ DONATION
(Instead of paying cover, help support everyone who worked to make this event happen by making a $ donation! Any amount big or small helps!)
---
Join us at PLANET PERV, a FREE two-day online party for the international kink community, as well as their kink-curious friends and newcomers! Please help boost the signal and SHARE this event to all your like-minded filthy friends who are just aching for a big fetish party!
LGBTQ+ / gay / straight / drag / cross-dress / singles / newbies / lifestylers / rubberists / all body shapes, sizes and colours / all age groups 18-65+ (no minors!) / all sexual preferences and gender identities most welcome!

Take the opportunity to dress up and join the private fetish group video party, or just listen in to the public livestream and dance to our DJs! And of course text chat with your fetish friends from all over the world!
Organized with pride by Vancouver Fetish Weekend, with the help of many friends from Montreal, New York, Edmonton, Los Angeles, Fort Lauderdale, Montreal and Dallas!
This is a FREE two-day event, but it would be HUGELY appreciated if you could donate (anywhere from $5-20, $10 minimum encouraged)!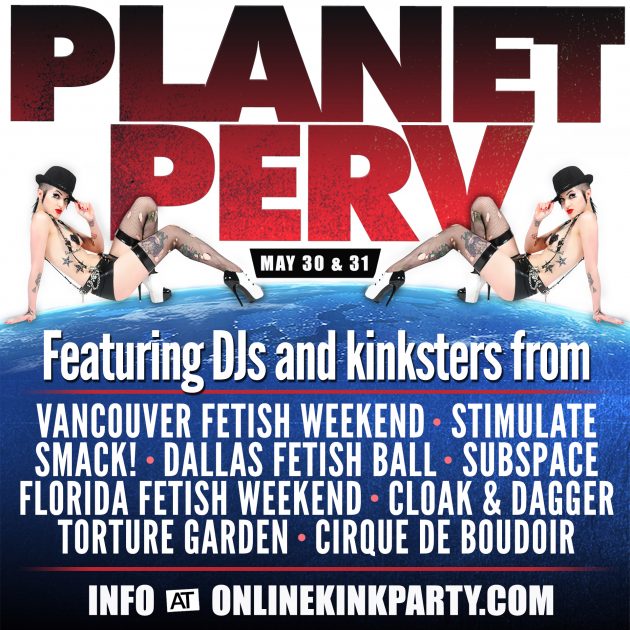 ---
No matter where you live or call home, you are most welcome to join us at this event!
---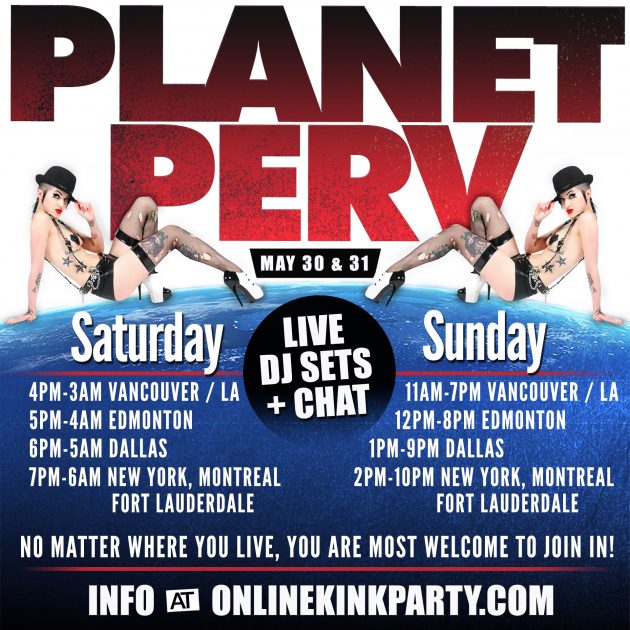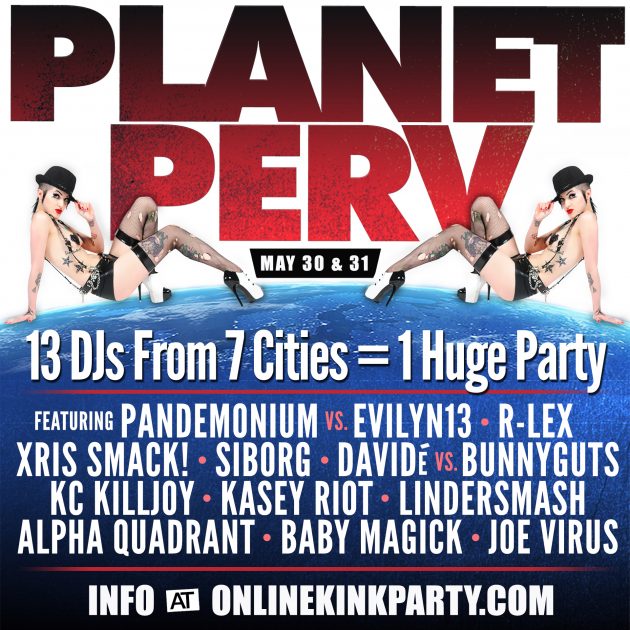 ---
There are two parts to the party …. a public livestream DJ mix and chat, and a private offline Zoom video chat! Most people will be tuned into both, but you can totally just take part in one or the other if you prefer! The links to both will be posted at the beginning of this listing, or sign up to the Newsletter and get the links sent straight to you when the parties launch.
Public livestream DJ mix & chat : www.twitch.tv/dj_pandemonium
————————
#1 – (PUBLIC) LIVESTREAM DJ MIX & CHAT
No dress code, anyone can tune in and listen, and join in the public chat within the livestream.
Rock out at the same time as all your friends with a live mix beamed right to you to crank up! Dirty basslines, house, techno & EDM as well as industrial, pop, rock, alternative & retro.
Even if you're not into joining the private video group chat, you can still listen in to the music mix, and join the non-video public group chat on the DJ stream.
————————
#2 – (PRIVATE / OFFLINE) KINKY VIDEO CHAT & PARTY
SATURDAY – fetish dress code mandatory – dress to impress! If you show up in the video chat in plainclothes, you will automatically be booted by the moderators!
SUNDAY – no dress code – casual wear totally OK – sexy beachwear encouraged!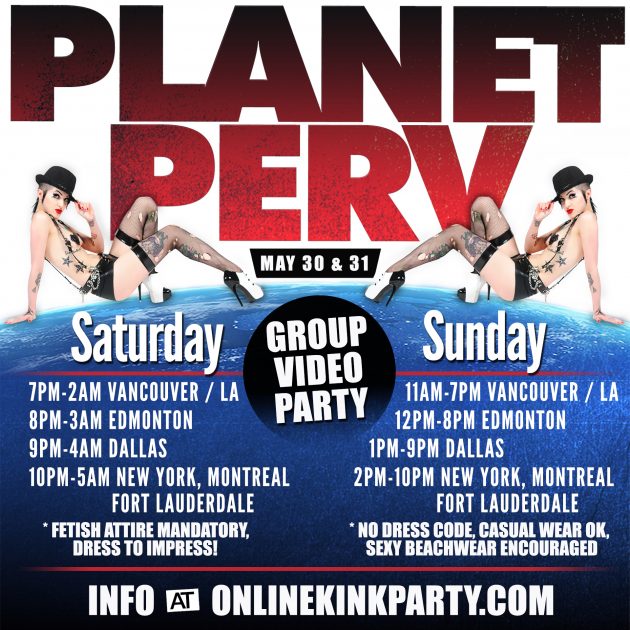 FEATURING THE MUSIC OF DJs …..
PANDEMONIUM ….. (Vancouver Fetish Weekend / Sin City)
EVILYN13 …… (Vancouver Fetish Weekend / Sin City)
KASEY RIOT ….. (Vancouver Fetish Weekend / Torture Garden)
R-LEX ….. (Vancouver Fetish Weekend / I Die : You Die)
XRIS SMACK ….. (STIMULATE, SMack!, New York Fetish Marathon)
DAVIDE & CORA BUNNYGUTS ….. (Cirque De Boudoir / Montreal)
KC KILLJOY ….. (Fetish Factory / Fort Lauderdale)
MIKE LINDER ….. (Fetish Factory / Fort Lauderdale)
BABY MAGICK ….. (Cloak & Dagger /Los Angeles)
SIBORG ….. (Subspace / Stomp / Edmonton)
JOE VIRUS … (Dallas Fetish Ball)
ALPHA QUADRANT … (Fort Lauderdale)