JUNE 13 – ONLINE KINK PARTY – COME ONE, COME ALL!
THIS SATURDAY! Livestream, live DJs and public chat from 7pm-3am, private Zoom video party & chat from 9pm-2am.
The link and password to join the video party will appear RIGHT HERE at approx 8:45 PM Saturday night.
Note that to join you will need to be in fetish attire, and enter a password, which will also be emailed out to the VFW Newsletter list at 8:45 PM Saturday night. Make sure you are signed up before that! You can unsubscribe anytime. Once you are signed up you do not need to do anything else, just wait for the email and the link to arrive in your inbox, and you'll be good to go!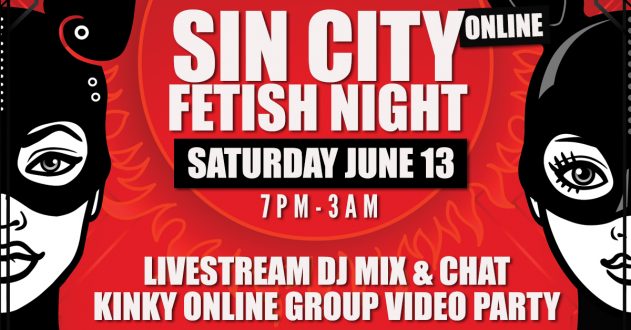 This is a FREE eight-hour event, but it would be HUGELY appreciated if you could support the organizers and artists working to give us somewhere to come together by buying a virtual 'ticket' and thereby making a donation, at one of the links above!
Seeing as how -in-the-flesh fetish gatherings don't look to be possible any time soon, the Sin City and Vancouver Fetish Weekend crew are gearing up to bring you the next best (and MUCH NEEDED) thing – an online fetish party for the local and international kink community. Join us, share the event and invite friends! Read on for more info!
RSVP on FACEBOOK / RSVP on FETLIFE
Here's how it works …
LIVESTREAM DJ MIX – will be broadcasted on Twitch. We'll also have a feed playing right here on the home page of this website.
KINKY GROUP CHAT – is a moderated Zoom chat room. Once the room is activated, a button to join will appear on the home page of this website, and on the various event listings on Facebook, Fetlife etc. It will also be sent out via the Newsletter. Note that you will need a password to join – the password will also be sent out via the Newsletter. You can unsubscribe from the Newsletter anytime later on. Audio will be OFF on the group chat, and the chat is text only, but the video will be ON so we can all interact visually! Participation in the group chat is FETISH DRESS CODE – anyone in plainclothes will be booted by a moderator! The entire point is to encourage people to dress up and get some kinky interaction! Read on for a more full description.
---
(PUBLIC) LIVESTREAM DJ MIX & CHAT
No dress code, anyone can tune in and listen, and join in the public chat within the livestream, broadcasted at –> www.twitch.tv/restrictedentertainment
DJ Lineup (Playing on PDT Vancouver time)
7pm to 9pm … Davide Vs. Bunnyguts (Montreal)
9pm to 2am … DJ Pandemonium Vs. Evilyn13 Vs. R-Lex (Vancouver)
2am to 3am … Kasey Riot (Vancouver)
Rock out at the same time as all your friends with a live mix beamed right to you to crank up! Dirty basslines, house, techno & EDM with dashes of industrial, pop, rock & retro.
Even if you're not into joining the private video group chat, you can still listen in to the music mix, and join the non-video public group chat on the DJ stream.
While we will be broadcasting on Facebook Live and you CAN follow from there, Facebook interrupts and relaunches the stream every 30-60 minutes, requiring you to find the new stream and re-launch it every time. We HIGHLY encourage following on Twitch instead – It's where most people will be chatting, and where there aren't the constant interruptions like on Facebook!
---
(PRIVATE) GROUP VIDEO CHAT – VIRTUAL ZOOM ROOM CLUB PARTY – HOSTED BY MARK THERIPPER
Join us along with anywhere from a handful up to 100 friends from the local and international kink communities in a virtual fetish hangout! The link to join the video chat room will be posted in the event and on the livestream. Here's the details …
1. Anyone can join BUT you will need the password, which will be mailed out via the Sin City / Vancouver Fetish Weekend newsletter! Make sure you are signed up to it ahead of time.
2. Audio will be MUTED in the group chat as it becomes too chaotic once 10+ people are involved. However the typed group chat will be active and it will be super fun! People are encouraged to make their own secondary smaller (and maybe even pervier) private Zoom Rooms for audio chats with their friends while this is going on though!
3. Video in the main group chat will be ACTIVE, so you can see all your friends and show your sexy selves off! The name of the game is to take the opportunity to dress up sexy / fetish / risque / scandalous in some way! If you are not comfortable having video of yourself or your surroundings, you can always mute the video feed and just take part in the group chat. However, anyone who joins with the video muted who also is not active in the text chat may find themselves booted to make space for other people who want to join, if the virtual club starts to hit capacity 😉
4. FETISH DRESS CODE IN EFFECT! Anyone with the video on in plainclothes will be booted – this is also a measure to deter looky-loos, and to really encourage people to get dressed up for the party!
5. No solo men wanking on camera, or you will get booted! Got a partner with you? That's a different story – by all means, if so, get as filthy as you like!
6. Kinky but respectful chat only! Posting aggressive or disrespectful comments in the chat will get you booted, no warnings.
---
THAT'S IT! NOW LET'S GET FILTHY AND HAVE SOME FUN!