DESIGNER ANNOUNCEMENT – JANE DOE LATEX!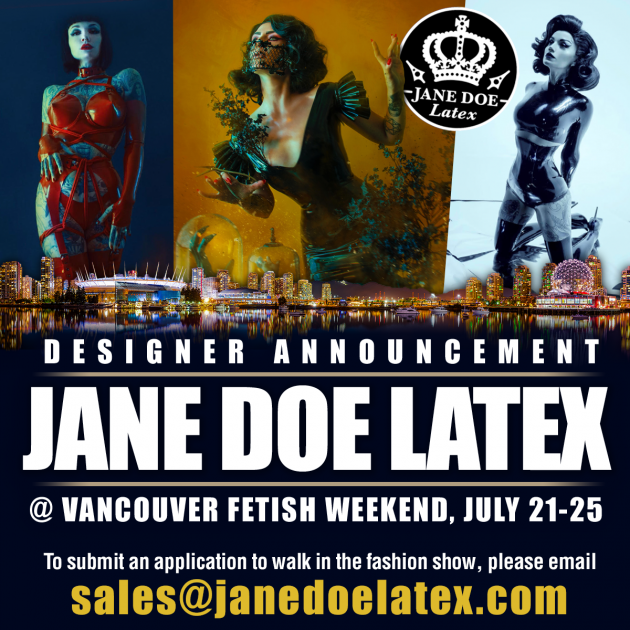 We are ecstatic to announce that we will indeed be having a full scale runway fashion show at the Saturday main event of Vancouver Fetish Weekend 2022! Our first designer announcement is JANE DOE LATEX!
Bio:
Having begun in London, England in 2005 by Model/Actress Nina Kate, Jane Doe has always been at the forefront of cutting edge latex design. With customers including Beyonce, Lady Gaga, Cirque Du Soleil, Katy Perry, and just about every fetish/pin up supermodel around, Jane Doe offers a unique take on latex fashion. Making everything from pretty dresses with bows & frills, to rock n roll royalty clubbing outfits to full on couture costumes. Every item is hand made to order by expert hands with over 18 years experience, using only the highest quality products.
Model Submissions
Jane Doe will be accepting model submissions to fill 10-12 spots for their showcase. Female / male / non-binary and trans bodies welcome. If interested, please send an email to : info@janedoelatex.com
Please be sure to include at least one photo of your current look, any relevant model, performer or runway experience, and any links to Facebook or Instagram accounts.
Check out more of Jane Doe Latex at their Instagram / Official Website.
Photos in banner image by Ashley Von Helsing.