Fetish Fashion Designers
---
FETISH DESIGNERS OF THE WORLD – INTERESTED IN SHOWING AT VANCOUVER FETISH WEEKEND? DROP US A LINE!
We only take on two to three designers every year, to ensure they receive maximum exposure. If you are interested in showcasing your fetish label at Vancouver Fetish Weekend, please drop us a line via the CONTACT page!
---
Showcasing this year for VFW2019 ….
JADED JEWALL … (Germany)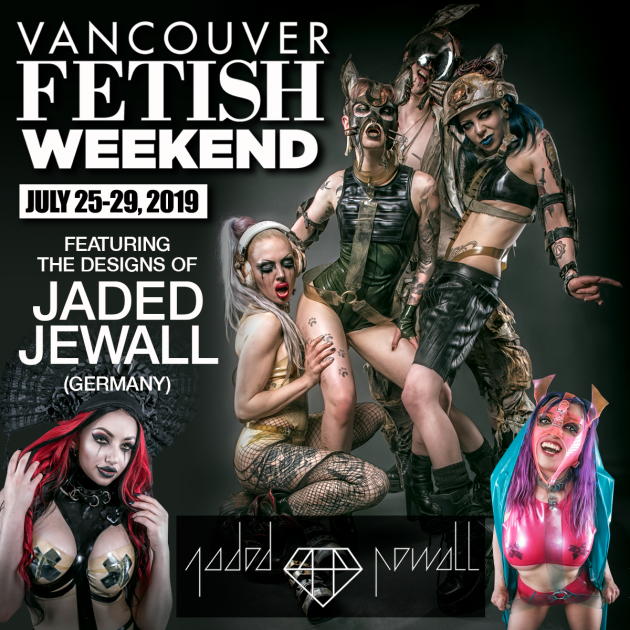 The incredible Jaded Jewall from Germany will be presenting an exclusive North American main stage runway show at Vancouver Fetish Weekend 2019, showcasing their unique vision of fetish fashion, kawaii cosplay and dystopian wasteland aesthetics. Absolutely not to be missed!
Check out Jaded Jewall's : Facebook Page / Instagram / Online Shop
---
STAR CREATIONS COUTURE HARNESSES by Veronika Starr … (Montreal)
Couture harnesses and fashion accessories hand-crafted with love in Montreal for the avant-garde man or woman who wants to feel sexy & confident, whether leaving a memorable impression in the bedroom or during special events out on the town! Combining a classy versatile look with a touch of edgy – because you deserve that powerful boost of self-confidence that comes with wearing a Star creation!
Check out their : Online Store / Instagram / Facebook Page
---
PAST DESIGNERS
Polymorphe Latex
Miss Kinky Latex
Renee Masoomian / BabyLove's Latex
Pippa Latex
Harness Your Harpy
Nicole Rose Designs
Beauty By Impairment
Dawnamatrix Latex
Pandora Deluxe Latex
Hypershine Latex
Deadly Couture
Andromeda Latex
Salient Seven Latex
Cinched Tight Corsets