The mind-blowing performances of Vancouver Fetish Weekend 2018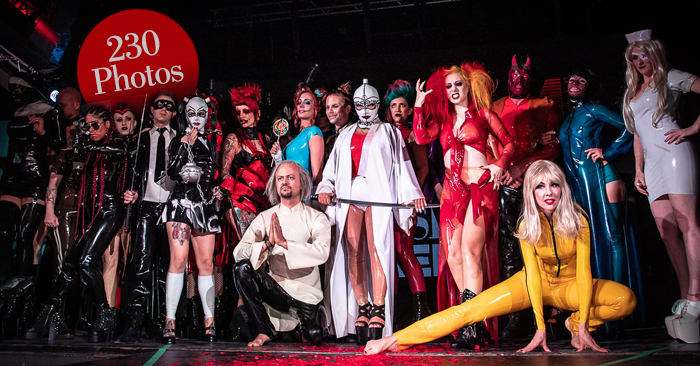 They came, they slayed, they gagged us completely. VFW2018 saw an explosive escalation in the level of entertainment across all the events of the weekend, and FUBARFOTO was there to immortalize all the most magic moments! Fubar was on hand for the Black Magic Fetish Ball on Friday night at The Imperial, and the 6 Year Anniversary Fetish Ball on Saturday at the incredible Harbour Event Center, and we can't thank them enough for these mind-blowing images from all the shows!
Headliners Lou Lou D'Vil and Baron Of The Universe from Las Vegas made us laugh, cringe and drool with lust with their circus strongman, fetish dog & mistress and high wire flesh hook suspension acts. Hosts Samantha Mack and Gluttony kept the pace on track and the audience in stitches with their sassy humour and welcoming personalities. The Lost Girls from Vancouver disturbed and delighted us with their ritual sacrifice burlesque. Seattle Shibari's gorgeous glow in the dark rope work and Van Erotica's shibari suspensions utterly dazzled us. Natasha Nebula & Val Vampyre combined forces from the mighty Montreal and Fort Lauderdale fetish communities to present an art piece which brought the creatures of the night to life. Val Vampyre's solo Latina latex cop number on Saturday kicked the main event off into high gear in seconds flat. Visha Loo from Calgary was joined by local spooky burlesque babes Gidget Gravedigger and Spooksy DeLune for a wicked & wonderful custom latex contortion and aerial hoop act dedicated to the Evil Queen from Snow White. Renee Massoomian from New York's showcase of her intricate and couture BabyLove's Latex fashion line rocked the runway. Miranda Tempest and Ess from Toronto's aerial chain duet delighted with a killer show of carefully crafted athleticism. Vancouver's own Bratpack brought the house down with their group drag number and killer choreography. Miko Do's ambitious "If Looks Could Kill" fashion show featuring Polymorphe and MKL Latex, featuring a full Kill Bill styled second act, absolutely dominated the night, with screams for every one of the 30 models.
If you love these photos, please share them … well, the ones appropriate for public sharing anyway 😉
Note that once you are in the pop-up image browser window, you can fast-scroll through the gallery by clicking on the arrow keys or swiping left or right!