THANK YOU FOR A RECORD YEAR IN 2017, AND A WEEKEND FULL OF MAGIC MOMENTS!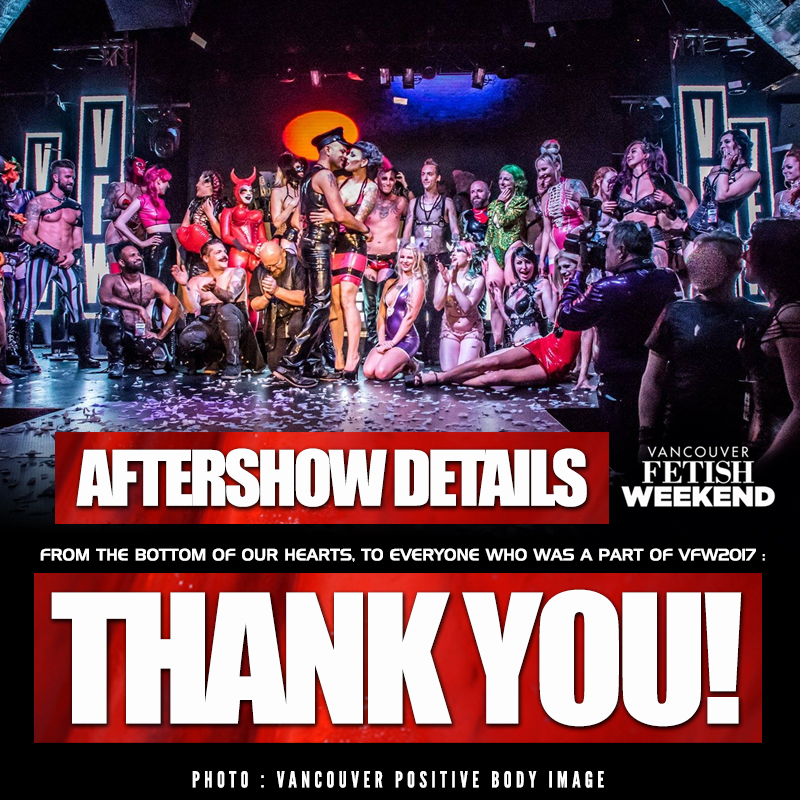 Now that the sun has set on Vancouver Fetish Weekend 2017, from the bottom of our hearts, we send out the hugest THANK YOU to everyone who was a part of VFW2017. We know everyone has some burning questions – like, "Where are the photos?" Read on for the answers to most burning aftershow details!
LOCAL & INTERNATIONAL LOVE!
In just a few short years, Vancouver has become internationally known as a vibrant, warm & inviting scene to the fetish community, with our annual celebration catapulting into one of the top don't-miss fetish destinations in the European and North American scenes. We cannot express our gratitude enough for all the goodwill extended to our festival from both the many groups and individuals in our local Vancouver scene, and also to our international friends who have helped spread the word and travelled here to Vancouver from so many far off places around the globe. Yes, we work our tails off all year to put all the details for this festival together, but without you, we are nothing!
RECORD ATTENDANCE – WHAT'S NEXT?
Every single aspect of the festival this year saw record attendances, with more daytime, free and social events added than ever before. We are expecting the festival to grow even MORE next year and have some amazing things planned! We'll be releasing all the info for VFW2018 shortly, including all the event dates & themes, social media listings, ticket release dates, and more!
WHEN DO THE PHOTOS COME OUT AND WHERE WILL THEY BE POSTED?
Photo galleries will keep coming out for the next few months, with all photos posted to the VFW website! Links to the galleries will be posted to the various online social media VFW spots as the galleries come out! It may take awhile for all the galleries to come out, but be patient, they are coming! Our photographers have literally thousands of photos to comb through and select the ones they deem fit for release, then prepare them, and even after that, all photos go to us at VFW HQ for final inspection and the OK to publish! We ourselves personally spend a huge amount of time carefully inspecting the backgrounds of all photos and subtly blurring out the identity of anyone not the focus of the photo. The process is time-consuming but worth it, as we are very committed to preserving the anonymity of all our attendees unless they directly consent to being in the photo galleries!
FULL CAST & CREW THANK YOU COMING SOON!
We have a HUGE number of people to thank – there were well over 100 people involved in helping make VFW2017 happen this year! A much more detailed thank you specifically geared to our performers, cast and crew is coming soon …
xoxoxoxoxoxoxoxoxoxoxx
Isaac T / DJ Pandemonium (VFW Producer)
~ on behalf of the whole VFW team!