LAST MINUTE QUESTIONS & ANSWERS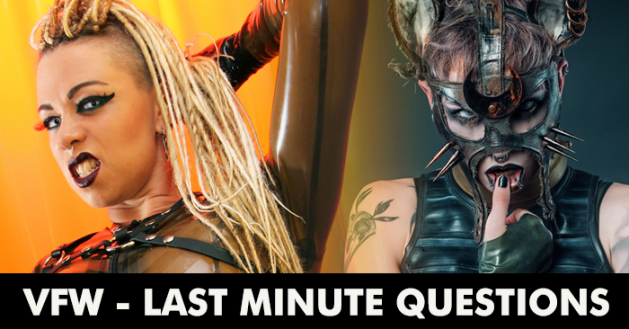 IT'S GO TIME FOR THE FIRST OFFICIAL MAIN CLUB EVENT, AND WE KNOW YOU HAVE QUESTIONS! HERE'S THE ANSWERS :
"Can I still get tickets? Where?"
Both Friday and Saturday are looking CRAZY busy, but there are a few tickets left. You can get them online at www.vancouverfetishweekend.com , or you can try just buying at the door, but this is subject to capacity, and you will almost definitely have a wait to get in as you will be behind advance ticket holders, who have priority entrance.
"How do I transfer my ticket to someone else?"
This information is easy to find online, either Google something like EVENTBRITE TICKET TRANSFER, and follow the instructions. Do not just click 'contact the organizer' and send an email and expect someone else to do this for you – emails to the organizer asking questions about information that is available online or on the website will be placed low priority on the monstrous to-do list of everything needed to get the event ready for everyone!
"When should I arrive to beat the line?"
We cannot guarantee or predict when lineups will form or how long they will be. However it is always best to arrive before 10:30 PM for speedier entry, and you do not want to miss a second of this party anyway!
"When are the shows?"
On all nights, shows are generally in two acts, one starting around 10:45 PM, and one starting around midnight.
"Can I change there / are there change rooms / is there a coat check?"
There are large public areas just inside in the front entrance where you can change, and a coat check where you can check any items you want stored for the night. If you need more privacy, you can head inside to one of the restrooms.
"Can I just wear a suit to the event?"
No. Plain business, athletic and daywear will not pass the fetish dress code. No effort = no entry, no refunds, no exceptions. Entry is conditional on dress code compliance. All outfits must be sexy / risque / pervy in some way!
"Can we have sex at the club parties?"
No. All nightclub establishments with a full-time liquor license operate under strict government guidelines which prohibit full frontal nudity and direct sexual genital contact. No touching or showing your junk, you perverts! Save that for the afterparty! Meanwhile, there is lots of fun to be had, and there are lots of areas for kink and dungeon play, which we highly encourage?
"Can I be topless?"
Absolutely.
"Can I be bottomless?"
No. You must be wearing a g-string minimum. Keep those lower bits covered.
SEE YOU TONIGHT!!!
xoxox
VFW Team