JULY 10 – ONLINE HANGOUT & RECONNECTION PARTY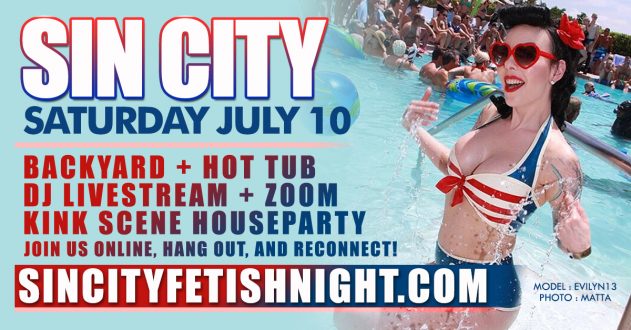 RESTRICTED ENTERTAINMENT
VANCOUVER FETISH WEEKEND
& SIN CITY FETISH NIGHT
INVITE YOU TO AN -ONLINE-
BACKYARD + HOT TUB
LIVESTREAM + ZOOM
KINK SCENE HANGOUT
RE-CONNECTION HOUSEPARTY
SATURDAY JULY 10
6pm-1am+ (PDT)
JOIN THE ZOOM PARTY / LAUNCH THE MUSIC LIVESTREAM / SEND IN A THANK-YOU TIP / FACEBOOK LISTING / FETLIFE LISTING
In person events are on their way back, and we're having a series of events where we invite all our friends and family from the kink community to re-connect before things launch full scale and in person in the near future!
Whether you're hanging out solo or having a house party yourself, we invite you to tune in and connect! Throw on the music mix from the DJ Livestream on Twitch, and join us on Zoom, for an informal party where we can all say hi and get ready to meet up in person again! Both the livestream and Zoom party are FREE to join, but for the Zoom specifically, you will need to be in fetish or pervy pool attire, and you will need a password, which is mailed out via the Newsletter! So make sure you are signed up ahead of time!
SIGN UP FOR THE NEWSLETTER @ THE SIN CITY WEBSITE
Livestream hosted by DJs Pandemonium, Evilyn13, R-Lex and many, many friends, partying it up at a gracious friend's gorgeous backyard space, with a big-ass hot tub and friends in latex! Music = dank electro, dark alternative, disco-punk, dirty pop, industrial, retro, remixes and lots more! Our livestream channel just hit 10,000 followers and is always a ton of fun!
Following this, we will be organizing an in-person munch at a downtown pub later in July!
WE CAN'T WAIT TO SEE YOU ALL!
---