FRIDAY PARTY DETAILS!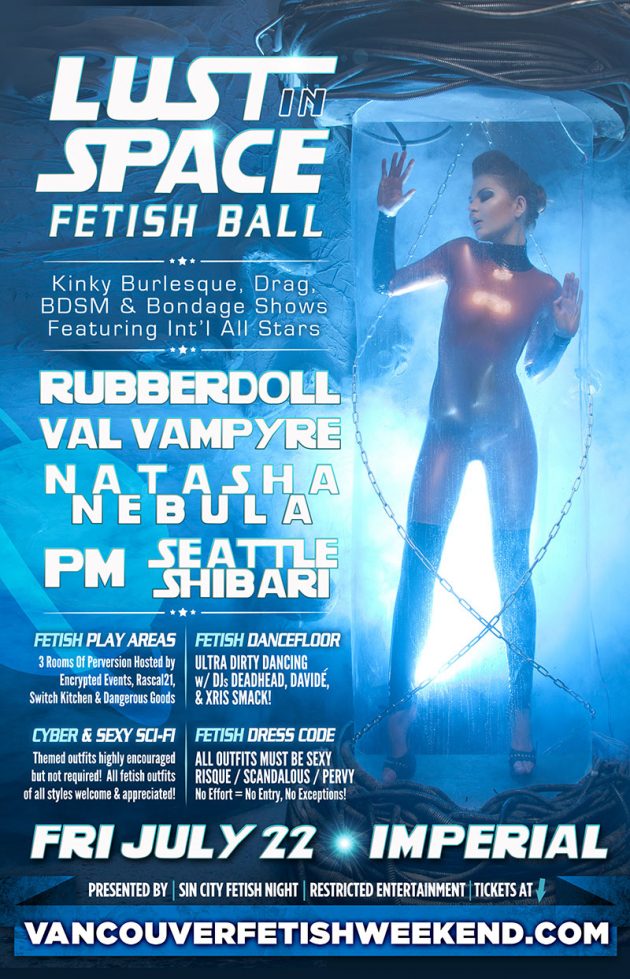 The 8th annual Vancouver Fetish Weekend kicks into high gear with the opening LUST IN SPACE FETISH BALL. Come party and get your kink on! Thrill to the main room stage shows …. get down and dirty on the huge and super naughty dancefloor …. socialize in the many hangout and cuddle areas … get your kink play on with a willing partner on the many pieces of play gear found throughout the venue …. this is the opening night of Vancouver's biggest fetish party weekend, and no expense has been spared to make it into the biggest and best kink playground possible!
NEWBIES AND LONG TIME KINK SCENE REGULARS WELCOME!
New to the fetish scene? Come and play with us – this is the perfect weekend to jump off the deep end into the world of fetish partying! Long term regular? Join hundreds of excited and inspired locals as well as an international invasion of kinksters from around the world descending on Vancouver for the weekend!
GAY / STRAIGHT / LGBTQ+ / DRAG / BUTCH / FEMME / CROSS-DRESSERS / LIFESTYLERS / ALL AGE GROUPS (19-65+) / ALL BODY TYPES / ALL GENDER IDENTITIES, PREFERENCES & EXPRESSIONS WELCOME!
Be creative – be wild – be yourself!
While ANY and ALL fetish outfits are accepted, we highly encourage people to join in the optional LUST IN SPACE outfit theme! Just some ideas :
– SCIENCE FICTION
– MUTANTS
– ALIENS
– ROBOTS
– GLOW IN THE DARK ETC
ADVANCE TICKETS & EARLY ARRIVAL HIGHLY RECOMMENDED
NOTE THAT THE BALCONY SOCIAL & PLAY LEVEL IS VIP WEEKEND PASS ACCESS ONLY!
WORLD CLASS FETISH, DRAG, BURLESQUE & TWISTED CARNIVAL SHOWS BY :
Rubberdoll … (Florida)
Natasha Nebula … (Montreal)
Val Vampyre … (Fort Lauderdale)
PM … (Vancouver)
DIRTY DJs :
Deadhead … (Fetish Factory / Florida)
Davidé … (Cirque Du Boudoir / Montreal)
Xris SMack! … (STIMULATE / New York)
SHIBARI & ROPE BONDAGE SHOWS BY :
Seattle Shibari
HOSTED BY :
Isaac T … (VFW Producer / DJ Pandemonium)
KINKY CARNIVAL GAMES & PLAY AREAS PRESENTED BY :
Encrypted Events
Switch Kitchen
Dangerous Goods
Sin City Fetish Night
Rascal_21
DUNGEON PLAY ENCOURAGED!
Hot and kinky dungeon play is a central part of the Vancouver Fetish Weekend! Feel the energy of the main room in the front & center dungeon areas, head up to the second level balcony play area if you have a VIP weekend pass, or jump on any of the many dungeon pieces found throughout the venue, including :
– St. Andrews Cross
– Prayer Benches
– Spanking Benches
– Suspension Frame
– and more surprises in various nooks and crannies!
STRICT FETISH DRESS CODE IN EFFECT ALL NIGHT
No effort = no entry, no exceptions!
ABSOLUTELY NO UNAUTHORIZED CAMERAS
We will have roving photographers to capture the party in action with willing subjects, but otherwise, no photography is permitted. This party is OFF THE GRID to enable attendees to fully express themselves!