FETISH CRUISE – JULY 24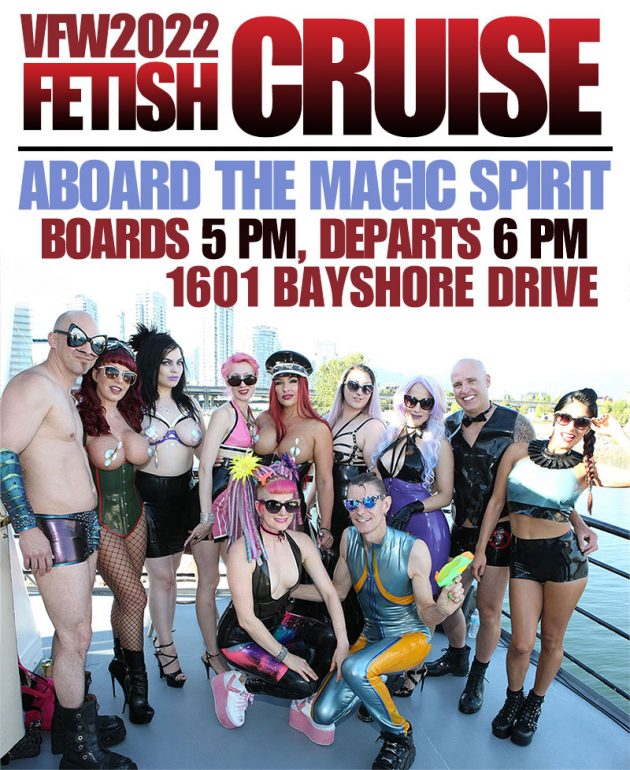 JOIN US ABOARD VANCOUVER'S LARGEST LUXURY YACHT, FOR THE BIGGEST FETISH CRUISE IN NORTH AMERICA!
Board the board at 1601 Bayshore Drive, by the Westin Bayshore
Don't miss the VIP Fetish Cruise aboard our privately chartered pervy pleasure yacht!
This private cruise for serious pervs only, and is ONLY available to full weekend pass holders.
The cruise runs from 6-9 PM along the coastline of Vancouver, and your ticket includes a complimentary shuttle to the official closing party afterwards, which runs right until 3 AM.
· Complimentary coat check
· Ultra naughty dancefloor & DJs
· Rope suspension play frame
· Dungeon gear & kink play areas
· 360 views of Vancouver from every level of the boat
· Massive upper deck rooftop social areas
· This is a private party – extreme exhibitionists, this one's for you!
PLEASE NOTE – CRUISE LEAVES AT 6 PM SHARP!
If you are not on the boat by 6 PM, it will leave without you! Cruise begins boarding at 5 PM.
MAXIMUM KINK LEVELS
This is a private chartered cruise and not a public club type event. There is a heightened level of 'anything goes' which applies to both kink play and the fetish dress code, so long as everything is safe, sane and consensual, of course! What insanely naughty outfit are you willing to wear (or not wear) aboard the cruise?  Note – a g-string minimum must be worn, and lower naughty bits must be covered.  What dirty things are you willing to do? The fetish cruise is for serious perverts and is NOT for the easily offended!  Also note – the cruise is not an SOP event, and though everything up to it is permitted, no actual sex on premises is permitted.
DUNGEON GEAR & KINK PLAY
The entire cruise is considered a play area, with high quality dungeon furniture scattered throughout on every level. Floorwalkers and Dungeon Monitors will be on hand to guide anyone who may have questions about play, and who will intervene if any play anywhere is considered unsafe for anyone involved.
FETISH DRESS CODE IN EFFECT AT ALL TIMES
All outfit styles are welcome so long as they meet our kinky / sexy / fetish / pervy dress code! Read more about our fetish dress code here.
ABSOLUTELY NO CELL PHONES PERMITTED! PRO FETISH PHOTOGRAPHERS ARE ON SITE
There is a 100% no cameras and no cell phones rule aboard. Please leave your phones with the rest of your belongings in the complimentary coat check. No taking of photos anywhere of any type, no using cell phones to call anyone, and no texting – no exceptions!
A very select handful of our most professional, high end and discreet fetish photographers will be on hand to service all the exhibitionists who will be on board and want photos taken! Photo shoots will happen with willing participants ONLY, with all photos carefully screened before release.
HOSTED BY : Isaac T (VFW Producer)
---
3 Levels of Fetish Partying
Level One
Board the boat, be greeted in style, change if needed, check everything you don't want to carry in our secure, complimentary coat check, and head up to explore!
Level Two
This year the entire second floor is being set up for kink play!  A wide array of sturdy, padded BDSM play furniture will be available for pervy play!
Level Three
The outdoor rooftop party space is always the most popular area of the cruise! The stunning views of Vancouver are an unforgettable backdrop for kinky fun.  DJs, dancing, rope play suspension frame, stripper dance poles and more!  Chill, talk, flirt (and maybe more) with friends old and new!
PLEASE READ CODE OF CONDUCT POLICY BEFORE ATTENDING
Before attending events at Vancouver Fetish Weekend, please take a look at our code of conduct, established to make sure all attendees have a fun, sexy, and safe time.