Tickets now active!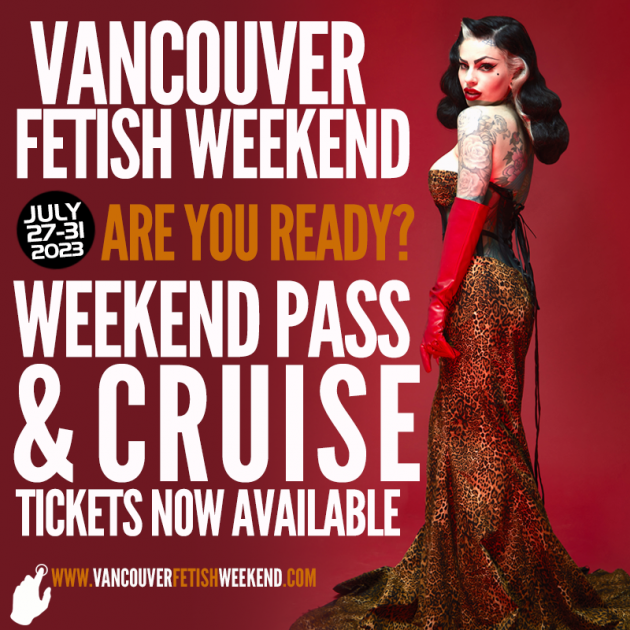 Tickets have activated and people are HUNGRY!  After just the first 60 mins into ticket sales, the always-in-demand VIP Fetish Cruise was already 1/3 sold out, with the remaining spots going FAST! Weekend passes in general are being picked up at an absolutely record rate. With the world having (mostly) returned to pre-pandemic levels of international travel, and with Vancouver Fetish Weekend being one of the very rare premiere summer kink holiday destinations, all signs are pointing to this being the biggest VFW gathering ever! Don't delay on getting tickets – and booking your hotel room! Both will be sold out before you know it!
Single day tickets will be released on May 11th! Please note some days have very few single day tickets and are mostly available only as part of a weekend pass, whereas our main event on the Saturday is the only one guaranteed to have lots of single day tickets available all the way through – though are cheaper the earlier you get them!
Friday Wild Kingdom Ball – will only have about 150 single day tickets available. We are debuting a NEW venue to VFW for Friday this year, the extravagant Hollywood Theatre on the west side of city, in Kitsilano!
Saturday Night Main Event – will definitely have lots of single day tickets available.  This year we are once again at a 1000+ person venue!  It is in fact Western Canada's biggest indoor club events space, where all the biggest names in electronic music routinely play.  Our main event is going to blow people's minds as Vancouver Fetish Weekend continues to grow on the world stage!  However, this is also the highest cost ticketed event and biggest production of the weekend, and it is not much more to upgrade to a weekend pass from there …
Sunday Day Fetish Cruise – available to weekend cruise pass holders only.
Sunday Evening Closing Party – there will be very few single day tickets as it will primarily be sold out just from weekend pass holders.
Note that there will be no single day VIP or priority entry passes, single day tickets are all REGULAR FIRST COME, FIRST SERVE ENTRY.
The only way to get VIP / priority entry is through having a weekend pass, which gives priority entry over single day ticket holders and at-the-door ticket purchasers.